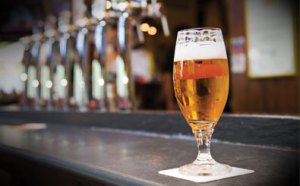 Words: Deborah Jackson, National Liquor News
No or lower alcohol beer products will represent at least 20% of AB InBev's global beer volume by the end of 2025.
Sara Hesse the key account manager NSW/QLD at Carlton & United Breweries (CUB) told delegates attending the 2018 ILG Conference in Singapore about AB InBev and CUB's strategy around the health and well-being trend.
"Everyone wants to be healthy. It's actually the most popular New Year's Eve resolution – get fit, lose weight, get healthy, drink less, etc. The Australian fitness industry is worth $2.4bn and growing. And a lot of that works against us in the liquor industry.
"If we look at health consumption by different age groups 41 per cent of millennials make the effort to be in good physical and mental shape. And that was least of the age groups that think so. All of the groups are over 50 per cent in the rating of being careful of the amount of alcohol they drink. That increases with age.
"The 24 to 34-year-olds are most likely to choose a brand based on calories, and also the most likely to preference low calorie beers, so it's not easy to relate or to combine the fitness and health crazes with the alcohol business."
So how does AB InBev plan to get involved with the health and well-being trend? Firstly it has set a goal to reduce the harmful use of alcohol by at least 10% in nine major international cities by the end of 2020.
"[We aim to] influence social norms and individual behaviours to reduce harmful alcohol use by investing US$1bn across our markets into dedicated social marketing campaigns and related programs by 2025.
"[We will] ensure no or lower alcohol beer products represent at least 20 per cent of AB InBev's global beer volume by the end of 2025. We will place guidance labels on all of our beer products in all of our markets by the end of 2020, and increase health literature by the end of 2025."
To kick this off, CUB has recently launched the first non-alcoholic beer in the brewery's 180-year history, Carlton Zero. Carlton Zero aims to expand the number of occasions people can enjoy beer while encouraging moderate drinking and a long-term reduction in harmful drinking.
While Australian sales of non-alcoholic beers have grown 57 per cent over the last five years, the sales volumes of non-alcoholic beers are very modest in Australia compared to the US, Canada and Europe. CUB's launch of Carlton Zero is expected to significantly increase non-alcoholic beer sales in Australia.
Carlton Zero is now available in liquor stores and major supermarkets across the country, where it will go head-to-head with other non-alcoholic beers. It will be sold in matte-black cans and stubbies.