East 9th Brewing from Melbourne has announced that they're set to release Australia's first commercially available hemp beer.
The human consumption of hemp has been banned in Australia since the early 1900s due to its association with cannabis, but will become legal by mid-November this year.
To coincide with this, East 9th Brewing will release up to 50,000 litres of Doss Blockos Hempire Hemp Ale in kegs to select venues across the country, with plans to expand distribution and product range into packaging by early 2018 as well.
East 9th co-founder Benjamin Cairns says the brew will emulate the success of hemp beer in the US, where at least eight hemp beer products are available on the market – including the Lagunitas Brewing Company's SuperCritical Ale, a beer brewed with an essential oil called terpene from cannabis itself, which debuted last week.
"From the health-foods space to hemp-related ASX stocks, and now beer. There's a great deal of anticipation brewing and it's a taste that Australians have been deprived of for a century, and now we can all experience it," said Cairns.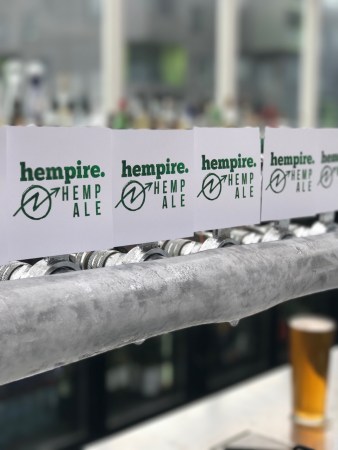 "At East 9th we're always eager to add innovative products to our growing portfolio, which is why we jumped at the opportunity to create Australia's first hemp beer.
"It's something that we've been keen on bringing to life for years, and now we can finally do it, legally!"
Consumable hemp is expected to be worth an estimated $1 billion in Australia within the next decade.
The East 9th team – a trio that includes Cairns as well as Josh Lefers and Stephen Wools – have a history of releasing politically-oriented products, including 'The People Vs.' series of Fog City Cloudy Cider that comes adorned with one of six bold political statements.
The team say they're in the final stages of perfecting the first batch of Doss Blockos Hempire Hemp Ale, which uses organic hemp seeds in the brew, and that the resulting flavour profile is quite distinctive – "think nutty and smoky, with a subtle creamy mouth feel".