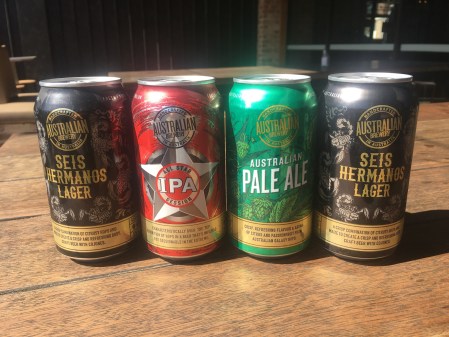 2017 has been an exciting year for the Australian Brewery team, with further expansion on the near horizon.
Higher sales – which the team attribute to an upgrade of the design and packaging of their core range – have meant that the brewery has ordered more equipment to meet demand.
The Australian Brewery are awaiting a new canning line before they gear up for another expansion, almost doubling their fermentation capacity and adding another vessel to make the brewhouse more efficient.
The Australian Brewery also recently took home an impressive nine medals from the Sydney Royal Beer and Cider Awards in both the bottled and draught categories.
Head Brewer Dan Shaw is thrilled with what's to come for the brewery stating: "It's always great to get these awards and be recognized by our peers.
"It's been a very exciting time for the Australian Brewery, we've just had a record month in sales and with the new kit on the way we'll be able to keep up with the growing demand."
In Sydney, Seis Hermanos Lager received two gold medals, the All-Star Session IPA received a Silver and Gold, and the Australian Pale Ale won another gold.
The New World Pilsner snuck away with a Silver and a Bronze, Into the Void took home a silver and their seasonal release, the Fire and Brimstone took home one more bronze.
This success follows similar results at other mainstays of the awards circuit; to date this year the Australian Brewery have been awarded two gold medals for their Australian Pale Ale and Seis Hermanos Lager as well as an outstanding five gold medals for their All-Star Session IPA, across the Australian International Beer Awards, Craft Beer Industry Awards and the Royal Sydney show.