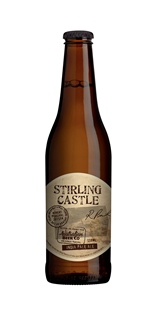 Australian Beer Company (ABCo), the Coca-Cola Amatil and Casella joint venture,is set to launch a new craft beer range in December.
As a preview, ABCo will introduce a selection of the range during Sydney Craft Beer Week (18-25 October), along with a limited-edition collaborative brew between the ABCo's brew master, Andy Mitchell and UK-based Institute of Brewing and Distilling International Young Brewer of the Year, Rob Percival.
Under the master brand Yenda, referring to the rural NSW town from which the beers are born, the range will include a Pale Ale, India Pale Ale, Unfiltered Lager and a mid-strength Ale.
The Yenda Pale Ale and Yenda India Pale Ale will be previewed at a number of events during Sydney Craft Beer Week, accompanied by the launch of the small quantity collaborative brew, Stirling Castle, which commemorates the arrival of the first English India Pale Ale in Australia on the 'Stirling Castle' in 1835. The crew had brought 900 barrels of Hodgson's Pale Ale from London for their trip to Hobart and were then shipwrecked off the north coast of Australia.
"Stirling Castle, the collaborative brew between our brew master Andy Mitchell and Rob Percival, is just one of the exciting and innovative concepts you'll see from the Australian Beer Company in the coming months," said Derek O'Donnell ABCo general manager.
"It's our goal to produce some of Australia's best beers and ciders with our core range of superior craft brews, but we also plan to continue pushing the boundaries and exploring new brewing techniques and partnerships like we have with Stirling Castle."
Stirling Castle is a deep and richly coloured India Pale Ale with hues of orange and copper. Traditional pale and amber malts give a full and smooth body, and malty sweetness is balanced with mellow English hops for a dry bitterness.
The Yenda Pale Ale is an Australian-style pale ale with pronounced floral and tropical fruit hop aromas and subtle malt character. The bitterness from the new-world hops balances the full-bodied malt flavour leaving a refreshing, yet interesting aftertaste.
The Yenda India Pale Ale is an American-style IPA with lots of hop aroma, big fruity citrus and berry hop characters and dry hop additions, which complement the malt complexity achieved with the use of crystal and roasted malts.