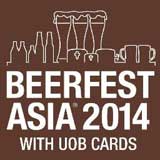 Beerfest Asia 2014 is set to kick off in Singapore on 12 June, 2014 – and the Australian contingent looks well-placed to represent Aussie brewers to the burgeoning Asian craft beer market.
The breweries whose beers will be flying the Australian flag include Blue Sky Brewery, Bridge Road Brewers, Cheeky Rascal cider, Coldstream cider, Hawthorn Brewing Company, Matso's, Moon Dog and Mountain Goat. They join a line-up of more than 400 beers from around the world.
Beerfest Asia is a three-day event, celebrating all that is beer in an increasingly beer-hungry market. The festival also includes live music, comedy, a wide range of 'fringe' events and a whisky club for a cheeky nightcap at the end of a long day tasting beers.
For more information, head to www.beerfestasia.com