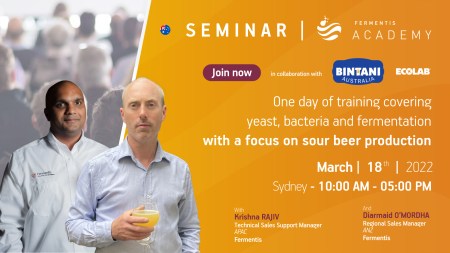 Yeast and fermentation specialists Fermentis are hosting their Fermentis Academy Sydney training seminar at Public House Petersham on March 18 which will have a major focus on sour beer production.
Fittingly falling on the eve of the Batch Brewing-hosted Sourfest, the Bintani-supported event runs from 10am to 5pm and aims to arm brewers with increased fermentation knowledge.
A series of different topics will be punctuated by beer tasting sessions and interactive interludes, including discussion time. On top of that, after the event, you're invited to join an exclusive tasting of some of the beers to be showcased at Sourfest.
Topics on the day include:
Yeast & bacteria fermentation – this will discuss yeasts, including S. cerevisiae var. diastaticus variety, and lactic acid bacteria strains, Lactiplantibacillus plantarum and Levilactobacillus brevis and present important characteristics such as the POF character and homo/hetero fermentative acidifications.
Yeast & bacteria management in breweries – as yeast and bacteria are part of the everyday life of a brewery, it's important to understand how to use them within your production. Here you can understand how to use and handle yeast and bacteria for best performance, including our E2UTM validation process.
Yeast & beer diversity – discover how yeast and different fermentation parameters can impact the final product, including attenuation, flocculation, production of volatile compounds, flavour expression and more. This will also dive deep into brewing low and no-alcohol beer and how yeast is utilised in their production.
Bacteria & beer diversity – this will explain how bacteria and different fermentation parameters can impact the final product by looking at several souring techniques and explaining how variations of pitching, temperature, wort density and oxygen concentration impact acidification kinetics and organic acid production.
Yeast & hop interactions – channeling Fermentis' latest studies on the interaction of yeast with hops, this will focus on hoppy beer styles, in particular NEIPAs and Hazy IPAs. Fermentis will also present their latest work highlighting interactions between yeast and hops including the promotion of specific volatile groups such as esters and thiols and their latest study on the yeast interaction with haze production in hazy beer styles.
The Fermentis Academy Sydney is on Friday 18 March from 10am to 5pm at the Public House Petersham, 292 Stanmore Road, Petersham, NSW. It's $20 to register but this includes not just your entrance fee but electronic copies of the training materials plus drinks, snacks, lunch and the after event exclusive tasting.