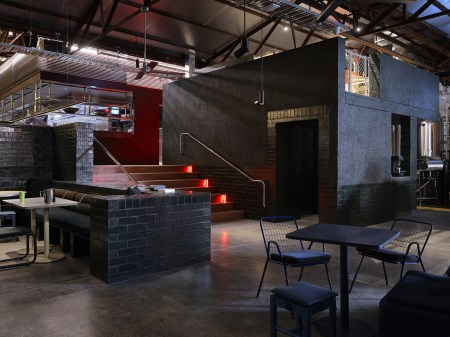 Sydney's Atomic Beer Project and Hobart's Cascade Brewery Bar have been named as state finalists in the annual Dulux Colour Awards.
Now in its 35th year, the awards are Australia and New Zealand's premier showcase of colour application in interior and exterior residential, public and commercial spaces.
Designed by the Sydney-based YSG studio, Atomic Beer Project (pictured above) – the Gage Roads off-shoot brand's brewpub in Redfern – has been nominated in the NSW Commercial Interior: Public & Hospitality category. The venue only opened in September last year and this nomination is a continuation of its impact in such a short space of time. In June Beer & Brewer announced Atomic had placed as the ninth best brewpub in Australia (second in NSW) in the magazine's annual awards, with the judging panel saying: "With Atomic we may have seen the future of the brewpub in Australia… It has redefined Sydney's taproom scene, matching a classy aesthetic and dining experience with quality, fresh beer."
In regards to the project, YSG said: "We managed a $2.8 million restoration and conversion budget plus the purchase of all brewing equipment, leaving a small fraction for furnishings, so we were highly resourceful. Nubby window borders and new internal walls were dipped in a rich ganache of obsidian paint to unify F&B areas, transitioning to a deep green epoxy paint sheen (Atomic's branding shade) over stacked brickwork. Chrome tubular stainless-steel finishes enhance subliminal references to the canned ranges. Complying with acoustic and insulation requirements, we used Koolthern K18 Insulated Plasterboard to resolve both. Flipping convention, panels were installed with the foil-backed insulation facing outwards to replicate the existing roof blanket while retaining the existing timber purlins and steel trusses".
Opened in August 2020, the Cascade Brewery Bar (pictured below) features a raw brass bar top, fireplace and locally crafted joinery using Tasmanian oak and raw steel. It was designed by the Cascade team in collaboration with Hobart architects JAWS Architecture and built by local contractors Macquarie Builders. It has been nominated in the Tasmanian Commercial Interior: Public & Hospitality category.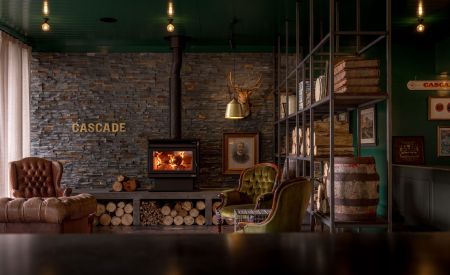 JAWS Architecture said: "The new fit out of the Cascade Brewery Bar, restaurant and retail offering creates a bold, yet playful step back in time, with a nod to the brewery's industrial nature. The concept connects two disjointed spaces of different eras to create an integrated and engaging dining experience. The rich cultural history embedded within the company, and the inspiration of the heritage buildings that makes up the brewery, combined with the strong brand identity have all had a significant impact on the design philosophy for the interior fit out. The complimentary juxtaposition of heritage base building fabric with the contemporary materials and fixtures provides a unique opportunity to showcase the interior design narrative. This design concept is celebrated through all aspects of the fit out. Layered with French wash paint and vivid Aquanamel high gloss green paint, classic finishes and details are constantly juxtaposed with raw and industrial materials to emulate the essence of the Cascade brand. Material selections, joinery, and furniture design along with lighting and the layering of eclectic picture frames evokes a sense of nostalgia, with the patina of the materials helping to provide a sense that that the restaurant and bar has always been there".
According to Dulux's Andrea Lucena-Orr the range of finalists across the categories is noteworthy when the global climate is one of uncertainty.
"We can't help but view this year's projects through a slightly different lens," she said. "While our focus is always on recognising innovation and excellence in the use of colour, our appreciation of the quality of work is heightened given the challenging climate in which these projects were created and completed."
Atomic and Cascade stand to receive $1,000 in prize money if they win their category which would see them eligible for the Australian Grand Prix title and a further $5,000.