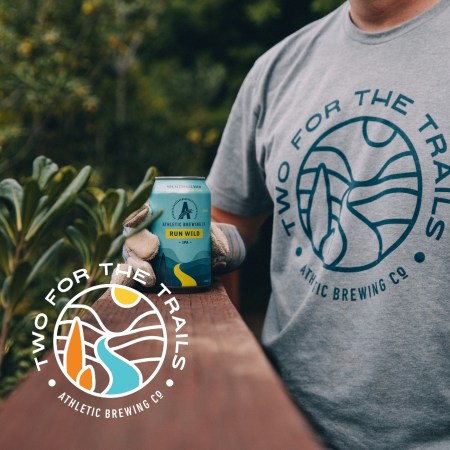 US-based non-alcoholic craft brewer Athletic Brewing are extending their Two For The Trails donations program to Australian not-for-profits who can apply now for a share in USD$1 million in funding.
After donating the same amount last year to 66 separate organisations, from local community groups to major national corporations, the 2022 Two For The Trails program has been opened up to local foundations that are devoted to environmental sustainability and preservation.
Before June 4 this year Australian not-for-profits that fit the criteria can apply to receive a grant for their environmental projects.
Named after Athletics' founder Bill Shufelt's family tradition of taking two beers to toast post-trail walking adventures, Athletic said the Two For The Trails program "embodies the core values of the Athletic brand and its mission to positively impact the health, happiness and fitness of their community". Athletic have since evolved the two beer tradition and now dedicte 2% of all sales revenue towards their sustainability program.
"Whether you are a community group tidying up a local park, a beach clean-up initiative, a charity wanting to preserve an area of land, Two For The Trails is open for you to apply," Athletic said in a statement.
"Any registered not-for-profit organisations with an environmental initiative are encouraged to apply. While the program is titled Two For The Trails, Athletic are excited to expand further than just trails, to beaches, waterways, parks, urban areas in need of outdoor maintenance, and even the construction of new trails, as they strive to make the outdoors available and safe for everyone."
Last year the likes of the Florida State Parks Foundation Inc. benefited from the Two For The Trails trails program, as well as international programs such as South West Coast Path in the UK – that country's longest trail.
Manager of B-Corp and Two For The Trails Cara Wilson said: "With impact-driven causes at the core of our brand, it's our responsibility and our privilege to work with and support those organisations who protect the spaces that we recreate in and we're honoured to offer a program such as Two For The Trails that does just that. It's even more special to announce the 2022 program is available to our international markets driving home the importance of corporate responsibility in both product and impact programs".
Grant recipients will be announced on July 13. For more information on Two For The Trails head here.