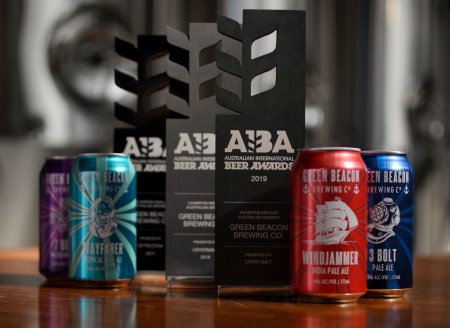 Asahi Holdings Australia has announced the signing of a sale purchase agreement to acquire a 100 percent stake in Green Beacon Brewing Co.
Coming just over a month after Asahi announced its intention to purchase CUB – and all its craft brands – from AB InBev, this acquisition would see Green Beacon join Cricketers Arms and Mountain Goat, and potentially 4 Pines and Pirate Life under the Asahi name.
"This is a very exciting time for our business, as we add this great brand and great business to the Asahi Beverages family," says Peter Morgan, executive chairman of Asahi Holdings Australia. "We are looking forward to working with Marc and Adrian to help grow the Green Beacon business and bring their great tasting beer to more consumers."
Green Beacon has two Brisbane breweries located in Teneriffe and Geeburg. The Teneriffe site also includes a brewpub and a bar. Its range of beers includes Windjammer IPA, Wayfarer Tropical Pale, 3 Bolt Pale Ale and Half Mast India Session Ale.
"We're all thrilled," Adrian Slaughter, who co-founded Green Beacon with Marc Chrismas, told Beer & Brewer.
Both Slaughter and Chrisman will be staying on in the business moving forward.
"The immediate future doesn't look that different," adds Slaughter. "One of the central premises that was pretty important to us was the idea of operational independence and to kick on with what we're doing, and continue doing it.
"By that I mean all the same people, all the same suppliers, all the same brewers. The directive from (Asahi) is 'continue doing what you do well. We're just here in the background as your support'."
Green Beacon and Asahi have been in contact since 2017 when they met after winning at the Australian International Beer Awards (AIBAs).
"One of the consequences of winning the AIBA Champion Trophy is that you collaborate in the ensuing AIBAs with the other Champion breweries," says Slaughter. "2017, when we won Champion Small and Mountain Goat won Champion Large… there was an open dialogue between us that opened up some communication channels. We kept winning and then the relationships changed.
"Green Beacon has grown from just myself and Marc to over 40 team members across the nation in just eight years. We want to continue growing and maintaining the quality and integrity of our beers, whilst ensuring all Australians are kept amply supplied in great beer.
"Partnering with Asahi to deliver this is truly exciting and provides security and opportunity for our customers, consumers and wider Green Beacon family.
"Our goal has always been to make the best beer and to get it into as many people's hands as possible. In Asahi, we have a partner who shares this commitment and can support us in achieving this goal."
Green Beacon's production brewery is currently not at capacity and so Slaughter believes that it will be possible to upscale litreage without further investment. However, long-term he hopes that the relationship will provide synergy in the form of distribution.
"We have a national footprint localised in the big cities," he says. "I would love us to really cement our foothold here in Queensland. We've got aspirations that when people talk about great beer and Queensland they're thinking about us.
"Ultimately, we've always tried to bring it back to the central premise that it's all about the quality of beer," he adds when considering the loss of another independent Australian brewery to a multi-national buy-out. "Event in the IBA ( Independent Brewers Association) there are some grey ownership structures in play with private equity and venture capital.
"I would hope our success is a spotlight for Queensland, a spotlight on good beer and a story that highlights if you make good beer and you do it consistently day in day out and you champion those qualities you can have success."
The IBA has responded to the sale, with chairman Jamie Cook telling Beer & Brewer that the sale reinforces the importance of craft breweries to Australian consumers in the marketplace.
"Firstly, congratulations to Adrian and Marc for the business they've built. They've created a very strong business and brand with a very solid reputation for quality beers," he says.
"One or so sales every couple of years isn't going to have a significant impact on the growth of independent beer when we've got new breweries opening at the rate of one per week.
"The two large international brewers are exposed the decline in mainstream traditional beer brands, so they have to offset that loss somehow, and acquiring small brewers is one response to that.
"It just reinforces that the independent brewers and entrepreneurship of startup breweries are creating the real value and growth in the market place. That value is being recognised by drinkers, retailers, and suppliers and even the global breweries.
"The IBA has a very clear plan around how it will support the growth of independent beer, and the sale of one brewery out of 600 isn't going to change that, in fact it just reinforces the importance of supporting indie beer!"