Moon Dog is moving its brewing production to the Melbourne suburb of Preston.
The new site, which is scheduled to open in late September, will be dubbed Moon Dog World.
"We've been thinking about this since 2017," Karl Van Buuren, co-founder of Moon Dog, told Beer & Brewer. "Our current facility in Abbotsford was designed to be a five-year plan, but we quickly realised that demand was higher than we were expecting."
After deciding against contract brewing and realizing that space was already "getting a bit cramped" at Abbotsford, the decision was made to look for and build a brand new facility, while maintaining the bar and function room on Duke Street.
"That's where our heart is and we want to make sure that its maintained, but for production we were looking at a new place," says Van Buuren. "Those two venues will stay, they're our home, that's where we started the business."
At first, the brewers looked at the industrial outskirts of Melbourne – Laverton, Tullamarine and Campbellfield – but instead chose to head further into the city in order to include a strong retail offering.
"We wanted to make sure that it was accessible and that it was in an area that was more residential. We refined our net to as inner Melbourne as we could get. It was very difficult, it took us about six months before we found the place that we're in now.
"We were first shown that building by some real estate brokers and we had excluded it because it was too big. We were looking for 5,000 sq m. And the building is 10,000 sq m.
Brewing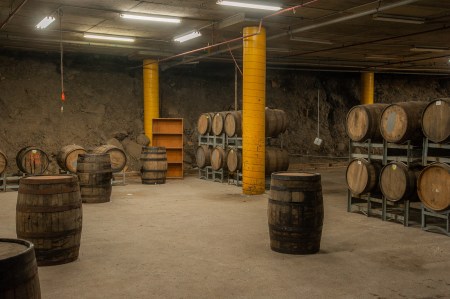 The new site will initially have a brewing capacity of 5 million litres – an increase of 3.2 million litres from the original site on Duke Street, Abbotsford.
"The size of the building will allow us to put in tanks and to expand to 20 million in five to 10 years if things work out that way," says Van Buuren. "Everything is brand new. We've got brand new packaging line that's being put in, a brand new brewhouse scheduled for the end of this month."
The growth in brewing capacity is expected to increase Moon Dog's presence in larger bottleshop chains like Liquorland and BWS, as well stretching out on a national and international level, with the aim to have dedicated on- and off-premise sales representatives in every state capital.
"We do export a small amount of beers to countries in South East Asia and UK and US. But this extra capacity will allow us to do bulk volume over there and really expand our presence, and even potentially set up our own distribution and sales representatives in markets like Singapore and Hong Kong."
Moon Dog World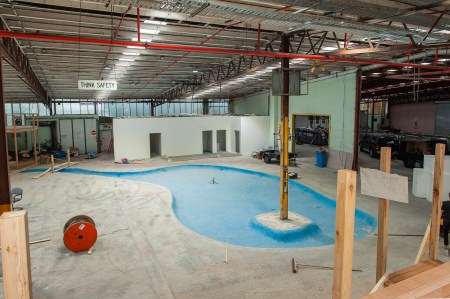 The hospitality aspect of the venue was inspired by Wobby's World, a theme park from the founders' childhood. It's a big space that has been divided up into different, themed areas.
"There's a rainforest area; there's a boardwalk area; there's a container area that will have pinball machines and arcades; we've got a big lagoon and a river and a waterfall," says Van Buuren. "It reminded us of an adult theme park. It's a place where people can have a bit of fun as well as trying out our beers."