When it comes to cider, apples ain't always apples. To put a craft cider – made from freshly pressed apple juice from locally grown apples – next to a mainstream, apple 'flavoured' glorified alcopop, made from concentrate, is like comparing apples with, well… you get the idea.
Though the majority of cider consumers in Australia probably don't know the difference, there are signs that this is shifting, with high quality 'craft' products that pay particular attention to provenance continuing to be a growth category both in the cider market and indeed the wider alcohol category as a whole.
For a non-craft cider producer, the latest statistics from market research company IRI would make for depressing reading – when it comes to the overall cider category at least. In 2018, cider experienced a negative 3.4% decline in growth (or, in material terms, a contraction of $490 million) and, according to IRI, has struggled against innovation in craft beer and an "aversion to health trends".
While Somersby is still the country's number one cider brand in the off-premise – with a total market share of $141 million – it nonetheless experienced a $16.5 million value decline.
Of the four remaining cider brands in the top five (Strongbow Classic, Rekorderlig, Mercury Hard, Pure Blonde), only Mercury Hard is in the green. However, craft cider continues to be a bright spot among this overall doom and gloom, and is continuing to gain market share, with domestic cider recording double digit growth in 2016 and 2017, according to IRI.
Nyall Condon, cider maker at Flying Brick on Victoria's Bellarine Peninsula and a founding member of Cider Australia, says that while cider has "stalled overall in the national drinks numbers… craft cider continues to grow each year.
"Dryer, more complex ciders are being sought, while there is some shift away from sweeter styles," he adds. "Craft cider is continuing to grow, therefore suggesting that consumers are seeking more real products made by real people and from local places."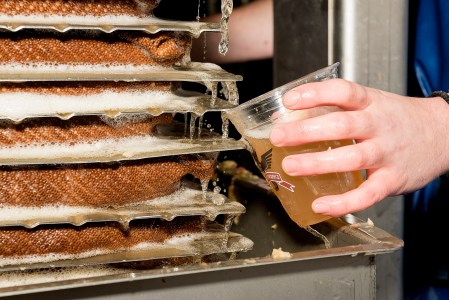 Trendy yet traditional
One major growth area within craft cider as a subsegment continues to be ciders made with traditional cider apples, as opposed to those made with well-known eating varieties. A few leading cider producers in Australia are taking advantage of this growth, by stocking both New and Old World styles in their portfolios.
One of these producers is Small Acres Cyder, a premium cidery and orchard located in NSW's Central West region, around 15 minutes from the tourist centre of Orange – the area itself a hotbed for winemaking.
Co-owner James Kendell agrees with Condon from Flying Brick's assessment, and says he's seeing fewer and fewer people coming through his cellar door asking for a sweet, sugary-type cider, instead seeking more
complex varieties.
"We take the customer on a bit of a tasting journey with our portfolio," he explains. "We start with a very old world European style, quite textural, dry and savoury cider, and explain that it's made from cider variety apples that we've grown on our property. We also explain that if we're making cider using these cider variety apples, we're going to get a more textured, more complex style of cider just the same way that you would in winemaking, with a wine grape versus a table grape."
Read the full article in Beer & Brewer's Spring issue. To subscribe, click here