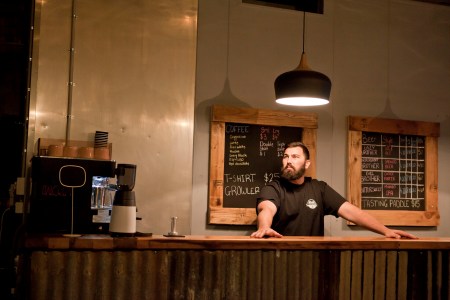 Toowoomba-based brewery 4 Brothers is set to open its first round of crowdfunding on 1 November.
The brewery, which was founded in April 2017 by Adrian Cubit, is hoping to expand its capacity and fit out a new venue.
At present, Cubit, who had worked in country pubs and spent over a decade working in the railways before founding 4 Brothers, is brewing with a 200-litre Braumeister and four 500-litre fermenters, allowing him to brew around 13 kegs per week at capacity.
"When we started our brewery quite small," Cubit told Beer & Brewer. "We've only got four investors currently, myself included. Its started as small as efficient as we could afford and we've been running profitably for the last two financial years. We're proud that we're able to do that.
"We knew that at some stage we were going to have to expand, and for some time our plan has been to use our crowd to help expansion. We're reaching the limit of what we can do with the small space that we've got.
"At the moment, we contract one of our beers to get it into cans – 4 Brothers Lager. But we don't have the capacity to package anything other than kegs where we are now.
"With our move, we're looking to get a new brewhouse and fermenters in the 10 to 20hL range."
4 Brothers has set a minimum target of $160,000 and a maximum of $200,000 using New Zealand crowdfunding website Pledge Me.
"They've done a few brewery raises with Kiwi brewers like Yeastie Boys and ParrotDog. I think we might be their first Australian brewery."
The first round will open on 1 November, preceded by a media release and offer document, and will last for a month. So far, over 130 people have pre-registered interest and Cubit estimates that if all pre-pledges are honoured, 4 Brothers will exceed its maximum.
"We're very confident that we'll close out our round," he says. "And hopefully, we can close it quickly."
Investors will become a part-owner and shareholder in the business, as well as receiving merchandise and discounts at the new venue and the brewery's online store, which Cubit expects to have up and running within the next two months.
"A couple of the higher tiers can have a brewday and then everyone gets to come to the AGM," says Cubit. "We'll hold an AGM each year, similar to what BrewDog does, but on a much smaller scale."
Crowdfunding has been a popular avenue for breweries since it became possible in Australia earlier this year, with Bucket Boys, Endeavour, Black Hops and Dainton all initiating campaigns.