Two Australian mates are hoping the boxed meal kit for the time poor craze carries over into the craft beer world as their company BrewBox looks to simplify home brewing in a similar fashion.
Created by 4 Pines brewers Henry Tier and Dylan Kelly, friends who have long held a love for home brewing but not the quagmire of do's and don'ts the hobby can entail, BrewBox's plan is to make brewing contemporary craft beer at home a more streamlined and accessible experience for the uninitiated.
Much like the model proliferated by the likes of Hello Fresh, BrewBox delivers basic equipment, fresh ingredients and step-by-step instructions to people's doors. As well as a starter kit, that consists of a digital thermometer, mesh brewing bag, 15 litre fermenter with spigot, an airlock and bottling wand, BrewBox have their own range of recipes that include a tropical XPA, a hazy and a Citra sour. They've even got a Christmas special on the go featuring any one of their brew boxes and a starter kit for under $100.
"We're trying to make it a lot more simplified and that really anyone can have a go at all grain brewing," Henry said.
"When you first start home brewing there is so much information out there and misinformation as well. And when you're trying to start out it seems that there is an endless amount of resources. It's hard to know what you need to know some of the time.
"And then observing the likes of Hello Fresh and Marley Spoon and their concept of meal kits and making home cooking great but simple, I thought it'd be great to be able to do something like that for home brewers."
When the onset of COVID caused operations at 4 Pines' Brunswick brewpub to halt, Henry headed back to Sydney to help out in the production brewery there. It was on that long drive that he had the time to better formulate the idea in his head. But he knew he'd need Dylan's home brewing knowledge on board to really make it work.
"I've been through a lot of iterations with my home brew set up. There's so much information out there that it's hard to know what you need to pay attention to and what you don't," Dylan said.
"But when Henry came up with this idea – to strip home brewing back to the critical bare bones and take away the things that might cause confusion – I thought it was a fantastic idea.
"Obviously there are sacrifices you have to make to keep it simple but in the end we feel it's a lot better for people getting in to home brewing as it's going to be less discouraging."
Henry aded: "One of the hardest things for home brewers to make great beer is controlling the fermentation temperature. So we went with Kveik yeast that works well in the warmer Australian climate and minimises the expense for the home brewer.
"And for our sour recipe we've gone with Philly Sour yeast that doesn't require kettle souring. That again plays into us simplifying things for home brewers but still helping them create great beers."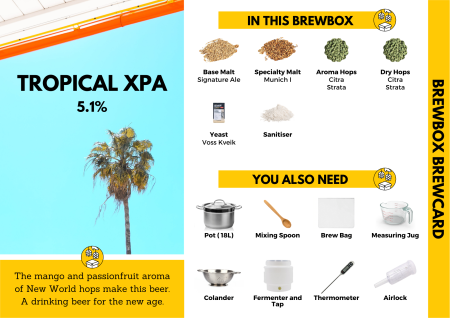 With home brewing going through a renaissance of sorts this year, as people took up hobbies old and new to occupy the time they were spending in lockdown, Henry and Dylan said it was an opportune time to be launching such a business.
"With everyone stuck at home and looking to things like home brewing it's definitely helped us grow," Dylan said.
"We took the approach that we wanted to grow organically at the start so we had everything in place and that we were really happy with the product.
"People are loving the fact they can brew with minimum equipment and space. They might be brewing in a one bedroom apartment but with BrewBox they can utislise equipment they've already got in the home. It takes away some of the barriers that people might have felt were in the way and stopping them getting into the hobby."
For Henry, he hopes BrewBox continues to break down those barriers.
"When you talk to brewers a lot of them say they got in to brewing with a Coopers extract kit or whatever. In five or 10 years time it would be great to be talking to up-and-coming brewers in the industry and have them say 'the first kit I ever did was a BrewBox kit' and we think that'd be great."