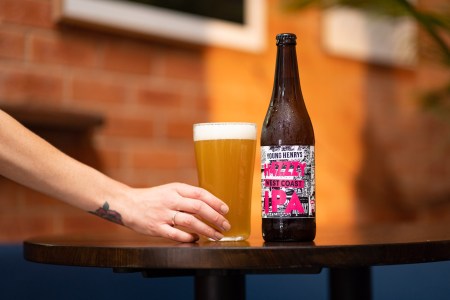 Young Henrys are saying a big happy 45th birthday to their long-time pals and Brisbane community radio heroes 4ZZZ with the release of the limited edition H4ZZZY West Coast IPA (7.3%). It's available now in kegs and a limited amount of long necks in select South East Queensland bottle shops and venues only, with 50 per cent of proceeds going back to the radio station.
The special release continues a long history between the two independent businesses, with Young Henrys supporting multiple 4ZZZ live gigs, festivals and their infamous Studio 3.
In a statement 4ZZZ's Grace Pashley and Dominique Furphy said: "What an honour to collaborate with fellow music-loving, community-minded mates Young Henrys on this celebratory birthday brew! The H4ZZZY West Coast IPA is perfect to enjoy on balmy QLD evenings with friends and your favourite 4ZZZ shows."
Young Henrys co-founder said: "When I was a youngster I played in a band and we headed up to play our first shows in Brisbane at a bar in the Valley. We weren't expecting much of it but based upon an EP sent to 4ZZZ we were invited in to chat about the show and play a song on air. We ended up having some beers with the 4ZZZ crew afterwards and low and behold, people heard the radio spot and actually turned up to see an unknown Sydney band. That's one tiny little positive experience, zoom out from that and think about the impact that this radio station has had on the music scene of Brisbane and it's surrounds; giving hundreds of Australian acts that platform to showcase every single week for 45 years. That is an incredible, undeniable effectuation upon Australian music and culture so profound that we shouldn't just raise a glass to them, we should make them their own bloody beer."
The release of H4ZZZY is just one of the many highlights of the station's birthday week. From December 4, 4ZZZ will welcome presenters both past and present on-air to take their listeners on a journey through the voices, sounds and sub-cultures that helped shape the last four and a half decades.
Closing out the celebrations, 4ZZZ and Young Henrys will be hosting an alumni party at Greenslopes Bowling Club on Saturday 12 December. The event will be invite-only for those who have powered the station from the inside with snacks, lawn bowls and H4ZZZY on tap.