13th April 2011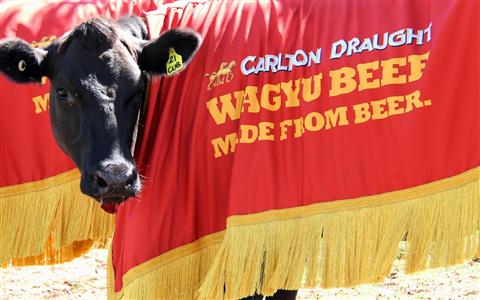 CUBis bringing it'sCarlton Draught Wagyu Beef to Adelaide.
Former Crow Mark "Roo" Ricciuto and current Crows Nathan Van Berlo and Bernie Vince will cook up the specially created Carlton Draught Wagyu Beef, at Adelaide's sole tasting event at the Alma Tavern.
Carlton Draught partnered with free range farm, Jac Wagyu, to rear 20 head of cattle on the quality malted barley and hops used to create Australia's favourite draught beer, Carlton Draught.
The result of this program is a modern twist on a classic Australian pub tradition of beer and meat trays.
"Carlton Draught and pub meat trays are both classic Aussie traditions," said Vincent Ruiu, Carlton Group Marketing Manager.
"The only way we could make this better was to combine Australia's favourite draught beer with Australia's finest meat trays."
The meat has been produced to celebrate the Carlton Draught Massive Meat Wheel promotion which gives Aussies the chance to go for a spin on the world's tallest cantilevered observation wheel, the EDF Energy London Eye, competing to win $100,000 and a meat tray.
The Carlton Draught Wagyu Beef, made from beer, will be available for sampling at a sole pub tasting event in Adelaide:
SA
Alma Tavern, Norwood SA – Friday 15 April, 6:30pm
Also a limited amount of the Carlton Draught Wagyu Beef will be available for Australians to purchase directly from Jac Wagyu or one of their preferred suppliers via the company's website www.jacwagyu.com.au
For more information on the Massive Meat Wheel promotion visit: www.CarltonDraught.com.au