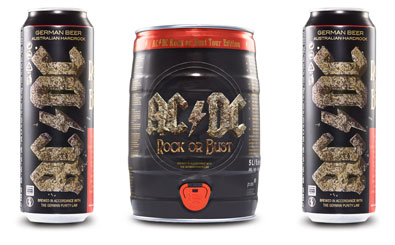 Legendary Australian hard rock band AC/DC has teamed up with ALDI to release its own line of beer in Australia.
AC/DC 'Rock or Bust' Beer will be available exclusively in all licensed ALDI stores in NSW and Victoria from 30 September. The release date means the beer will be available during the Australian leg of AC/DC's 'Rock or Bust' world tour, which kicks off in Sydney on 4 November.
The beer is a "refreshing and easy drinking pale lager" made by German Brewery Karlsberg and has been brewed in accordance with the 'Reinheitsgebot', the German Beer Purity law of 1516.
"We're very excited to celebrate AC/DC's legendary rock status with the launch of AC/DC Beer in Australia. The combination of great German beer and Aussie hard rock just seems like a match made in heaven," said an ALDI Australia spokesperson.
Available in either a 568ml can for $2.99 or a 5L keg with integrated beer tap for $24.99, AC/DC Beer will be available for a limited time.