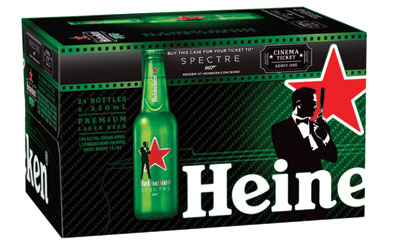 Heineken Australia is celebrating the release of the 24th James Bond film Spectre, which opens in cinemas tonight (12 Nov), with the launch of its experiential campaign 'The Catch'.
The campaign aims to give people the chance to immerse themselves in Bond's world by enticing them with the question, "Will you be ready for The Catch?"
The campaign will see exclusive Heineken Spectre events on offer, however fans won't know where or when these events will happen. Instead they must sign up via the website and allow Heineken to whisk them and their friends away at a moment's notice.
"In celebration of an 18-year partnership between Heineken and Bond, our Spectre campaign is truly unique. The Catch offers fans the chance to open Bond's world like never before," said Heineken marketing manager Alessandro Manunta.
Heineken will be hosting exclusive Spectre events in November and December.