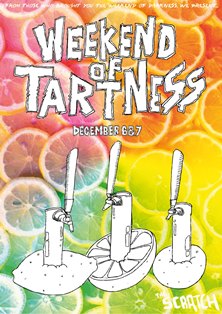 The Scratch Bar'Weekend of Tartness' will be held 6-7 December. The inaugural sister festival to The Scratch's popular winter 'Weekend of Darkness' festival cartwheels to the opposite end of the extreme beer styles spectra, with two days of nothing but the funkiest, sourest, most refreshing and fun beers in Australia and beyond.
Berliner weisse, gueuze, saison and lambic are just a handful of terms that will be bandied about as more than 24 different sour and tart brews hit the taps across the two-day festival. On offer aresome great brews from local brewers Bacchus, Newstead and Croft brewing, as well as renowned international sours from Garage Project (NZ), Rodenbach (BEL) and Sierra Nevada (USA).
If all this sounds too much for the uninitiated, fear not – a number of taps will feature specialty cider and some entry level examples of the style. Add in lots of summery fun, bad hair and fluoro, delicious food from serial Scratch collaborators and a bevy of pop hits to kickstart the fast approaching summer.
There is free entry to the weekend's festivities, 12pm-midnight both days. Follow The Scratch'sFacebook orwebsite for full details and tap list to be released in coming days.