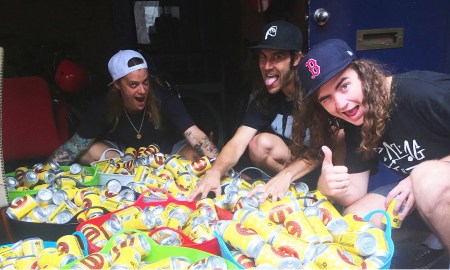 In our Winter Issue we have a pint with Danny Beusa the lead singer and guitarist of Australian garage punk group Dune Rats. After the band's second album The Kids Will Know It's Bullshit went to number one on the ARIA album charts in February, Dune Rats and Sydney brewery Young Henrys brewed a collaboration beer called the Dunies Lager.

B&B: Now Danny, we usually talk to prominent figures in the beer world for this section…
Danny: We're not as prominent in the brewing world as in other worlds, but that's not to say we don't drink our fair share of beer to try and get across who's releasing good beer at the moment – we do a lot of research [laughs].
B&B: Were you expecting TKWKIB to go to number one on the ARIA Charts?
D: Nah not at all! I think if anyone expects that, they're like the Ed Sheeran's and Drake's of the world. We had a sniff that we were in the running for it because our label started getting really worked up, but our main competitor was the Trolls Soundtrack, so we were literally getting trolled by Trolls. I think we found out on a Friday, and we'd organised to do like every class Queenslander does and head down to the Marriott on the Gold Coast and get drunk on margaritas by the pool, which was a pretty sick place to find out! And as part of going to number one, the Young Henrys guys were like "now we've gotta do this beer", after making the bet over Christmas.
B&B: In terms of the brewing process, how involved were you?
D: We were pretty involved, but we're also lucky that the Young Henrys brewers are so good that we just had to tell them the beers we like – and also what we didn't want in a beer – and they pretty much got it in one. We went in to have a taste test, and other than it not being carbonated yet, we loved the quirkiness of it, when you crack the can and it smells a bit like bud.
The Young Henrys guys were keen to use hop hash, and we were down with that because we like weed, so we said chuck it in! And then we ended up drinking so much of it, that that was kind of the final tick, because we weren't getting sick of it. That's where the 1.1 standard drinks comes from, we wanted something that you can really drink and have a good session with that also has that little hint of fruit to it.
They got us in on the canning days as well, did some canning and even saw some of the little fuck ups – at one point there was something wrong with the canning thing, and I've got a six-pack of illegal Dunies in my room now actually. It was a pretty cool experience to see the process from start to finish.
B&B: Did anything surprise you about the brewing process?
D: I think just how clinical it almost is – everyone there is like a scientist! They're scientists with beards at Young Henrys, and maybe a couple of tatts. Also in music, it's pretty easy to be around passionate people but to see that in the brewery and the passion for the science and chemistry behind it was really cool. We've done a couple of brewery tours in the States but those ones felt very corporate, but Young Henrys feels like what they are, which is just a bunch of really good dudes.
B&B: Can you tell me about the unique look of the can?
D: Well the design aspect was another thing we had a big hand in. We really like the old school, eighties and nineties sort of beers – your VB's and your Melbourne Bitters. We just wanted a real plain can, because a lot of craft beers they'll put like a rabbit smoking a pipe riding a Harley on it, and it's just like faaaaaark [laughs]. And we also love Duff Beer from The Simpsons, which was a bit of an inspiration, but also just wanted something that looked cool as fuck to buy, as a lot of our fans will probably buy the cans just for the cans themselves.
B&B: Apart from the Dunies Lager of course, what's your go-to beer?
D: I've always drank VB. Buy a brick of that and you're everyone's best mate – that was me yesterday at the footy, you get through 10 VB's and you're having a really good time. Also, one I really don't mind in the crafty stuff is the Stone & Wood Pacific Ale. I don't mind one of them in the morning when you need something a bit tastier to wash down the VB morning-after taste [laughs].
B&B: In a sentence, why should someone drink a Dunies Lager?
D: Because it's the coldest beer on the planet.