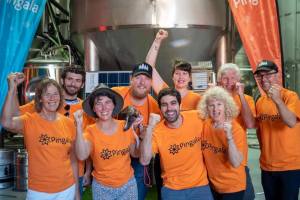 4 Pines Brewing Company is collaborating with two of Australia's community solar organisations, Pingala and ClearSky Solar Investment, to brew its beer using solar energy.
The local community has been asked to invest in the renewable energy project, with a return of up to 8% expected.
This is the 32nd community solar project embarked upon by ClearSky Solar Investment, which was founded in Sydney's Northern Beaches in 2013.
"We are delighted to be able to launch with 4 Pines and Pingala a community energy project in our own backyard," says Christina Kirche, director of CleakSky Solar Investment. "Our mission is to empower our local communities to benefit not just environmentally, but also economically, from the production of clean energy and this project is a real win-win."
The collaboration between ClearSky Solar Investment and Pingala is also a first, and April Crawford-Smith, co-founder and convenor of Pingala hopes that other breweries and businesses will follow 4 Pines' lead.
"We're excited to bring community investment to the 4 Pines solar project," she explains. "Solar is great, but when hundreds of people from the 4 Pines community can invest in the project, the overall impact is much greater. We're hoping many other breweries and businesses can do the same, installing solar but also building stronger links with their community."
Solar engineers Smart Commercial Solar will be installing a 100kW solar system to supply renewable electricity to the 4 Pines Brewery, pack line and office spaces in Brookvale, Sydney, this November.
The solar installation will deliver nearly 40% of 4 Pines' current electricity needs at Brookvale. As a part of AB InBev, 4 Pines is committed to securing 100% of its purchased electricity from renewable sources by 2025. This is the first step towards 4 Pines reaching that goal.
"Over the years, we've worked to brew beer using our resources wisely, energy included, so that we can do our best to take responsibility for the impact we have on the planet," says Kiera Murphy, 4 Pines sustainability manager. "To brew beer for the next 100 years we understand our need to take climate action now. We see the value and importance in renewable energy but didn't want to be the only ones to benefit from the solar system set to power our brewery. Why not share the love with our local community? We're honoured to be working with our partners who are leading the way to a renewable energy revolution."
4 Pines will continue to pay for electricity consumed, with the proceeds being returned to shareholders via a Power Purchase Agreement (PPA) with Smart Commercial Solar.
"4 Pines is using energy to give the community a piece of the pie," says Mike Dudley, project lead at Smart Commercial Solar. "Now there are vehicles that enable to the community to fund rooftop solar on businesses, so people can do something positive for the environment and get a good return for providing a valuable service —discounted electricity."