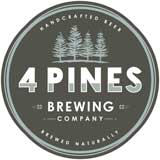 Following the success of last year's Beer Mimics Food event, 4 Pines Brewing Company has announced that the food-inspired beers will flow again as part of Good Beer Week in Melbourne.
To help get the ball rolling, Chef Andrew McConnell (Cutler & Co., Builders Arms Hotel, Cumulus Inc., Golden Fields) and comedian Mick Molloy have been brought on board to brew their own food-inspired beers, which will be revealed to the public at the Builders Arms Hotel on Wednesday 21 May.
Malloy has put together an Anzac Biscuit Stout, using NZ hops, creating what's described as "a full-bodied brew with a hint of oats, coconut and golden syrup", while McConnell, a veteran of the Beer Mimics Food events, has crafted an Asian-inspired XO Sauce Ale.
For more info on the event, or to find out where you can taste these amazing concoctions, head along to www.4pinesbeer.com.au.