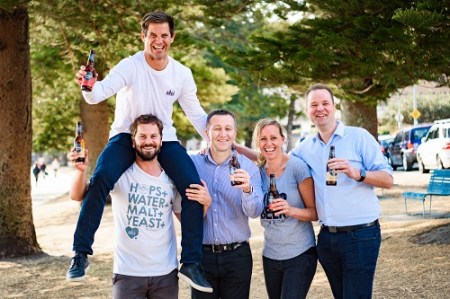 Manly-based 4 Pines is the latest craft brewery to be bought by the big guys, announcing last week that it has been 100 per cent acquired by the world's leading brewer AB InBev, for an "undisclosed sum".
The brewers' joint aspiration is to see the 4 Pines identity and operations amplified to become locally famous in Australia and globally celebrated.
Jaron Mitchell, 4 Pines' Co-founder told Beer & Brewer that the discussions of the sale have been going on for the last 12 months, and while he was skeptical at first he soon realised the opportunities a partnership would mean for 4 Pines.
According to Mitchell, the partnership will allow 4 Pines to deliver new and exciting beers made with ingredients not currently available in Australia, through access to Ab InBev's Agora community, a program set up by AB InBev which facilitates information sharing and ease of access to ingredients for its breweries.
"They've got this program called Agora. They call it the 'Global Excellence of Brewing' and there are 30 or so brewers in the world that are part of it, which we will now join. It's an exchanging of ideas and access to things like yeast strains that are proprietary, hop farms, barley, a whole bunch of stuff that is probably nothing more than pipe dreams for us at the moment. But in this AB InBev world this is actually a vertical integration component that is very exciting for our business, and as you know, we love our Keller Door stuff, and this could open us up to anything.
"This is a seriously exciting global business with great prospects and doing a lot of good things in environment and social with their people, and innovation and of course beer and it just matches with what we're doing perfectly," he said.
According to both parties, the deal will enable 4 Pines to expand its operations and retain and grow their people, culture and identity. 4 Pines will continue to create its beer experiences from its Brookvale and Manly breweries. The 4 Pines team will be unchanged and management will remain in place to help grow the business.
Peter Filipovic the Business Unity President – Australia for CUB told Beer & Brewer the immediate focus is to bring the 4 Pines brand to more consumers nationally.
"We'll keep Jaron and his team doing what they're doing. They are doing an incredible job at the moment with great brands, great people and a great culture, and then through our scale and distribution, the positive in this transaction is that we will be able to open up the distribution to a greater range of consumers.
"Then in time as we are relevant in many global markets we will have a chat to Jaron and his team as to how we could potentially expand the offering in the future years.
"The reality is that we were competitors up until yesterday so we haven't been able to sit down and work through each other's plans, but as we work through each other's plans we will have 4 Pines portfolio within our portfolio, which we think is the best beer portfolio in the country and this is only going to make it stronger, particularly when it comes to craft. And as we map the outlets that we service versus the outlets Jaron and his team service, the opportunity will be exponential for us."
Under the new guidelines of the Independent Brewers Association (IBA) 4 Pines will no longer be eligible to be a member.
Chris McNamara, the Executive Director of IBA issued a statement saying: "The Independent Brewers Association would like to congratulate the 4 Pines team on the sale. They have done a great deal of work in developing the good beer scene in Sydney and beyond and we wish them well in the future.
"From an industry perspective it is disappointing to lose a key player but it does open up more opportunities for breweries who choose to remain independent. The recent Beer Cartel survey showed that beer drinkers overwhelmingly preferred to support independent breweries over those owned by the large corporates. The purchase underscores the impact the independent brewing industry is having on the traditional beer market in Australia and overseas.
"The sale to AB InBev will mean that 4 Pines is no longer eligible to be a member of the Independent Brewers Association and we will begin the process of terminating their membership at the next board meeting."
We asked 4 Pines' Mitchell is he thought there would be a backlash from loyal craft drinkers, to which he said "of course".
"I was probably one of the biggest skeptics to be honest but I've had time to really lend my head to it and think about it and understand what it could mean. So honestly some will, and I believe it will be a small percentage. I think for most people that drink beer they don't really think too much about it, they think it's a good beer and something they believe in. For those that really care about independently owned, of course that goes without saying, but when people go to brewpubs and go, 'ok these beers are the same or better', they drink Keller Door releases and go 'ok these are ingredients we can't get elsewhere', I think the business on its merits and the beers on their merits will just continue to be red hot.
"Ultimately it's just up to the drinkers to decide."