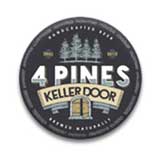 4 Pines Brewing Company has released Amber Mosaic, the latest in its small batch Keller Door seasonal release series. It's nominally an American Amber Ale, brewed with mosaic hops to pump out a citrus and tropical fruit-rich aroma.
This new brew tips the scales at a welcoming 5.1% ABV, with a bitterness rating of 37 IBU, which belies the fruity characteristic that is the calling card of this beer.
The team have released the Amber Mosaic available on tap before, but this is the first time it's been bottled for national release. You can pick it up from most good bottleshops, in 500ml bottles, with an RRP of $8.
For more information on the 4 Pines Keller Door series, head along to the 4 Pines website.