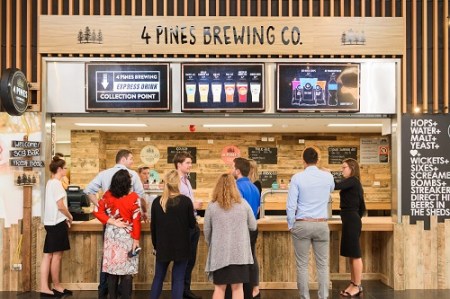 4 Pines Brewing has been announced as the official beer of the Australian men's cricket team with the Asahi-owned brewery's products to be on tap in stadiums in time for this Summer's home Ashes series against England.
As part of the deal, which follows 4 Pines securing a major tap presence at the Sydney Cricket Ground back in 2018 (pictured), the brewery, through its partnership with Landcare Australia, will plant four trees for every boundary four scored in games.
4 Pines' deal with Cricket Australia also follows the recent announcement that Colonial Brewing had become the official beer and cider partner of Cricket Victoria, the Melbourne Renegades and the Melbourne Stars for the next three years. (See below for more details on this partnership.)
4 Pines co-founder Jaron Mitchell said: "At 4 Pines we are passionate about having fun and bringing people together over great beer. Partnering with Cricket Australia to make this happen on the biggest of stages is huge for us and we are going to swing harder than Adam Gilchrist did on a short delivery to make this a success!
"It's been a tough time for the industry, so we look forward to supporting our customers with initiatives to bring punters into their venues to enjoy games this summer.
"As part our commitment to 'Brew Better', 4 Pines will partner with Cricket Australia to make a difference via the bat. Every four hitting the boundary will see 4 Pines plant four trees to help re-green Australia through our partnership with Landcare Australia."
Nick Hockley, Cricket Australia's CEO, said he can't wait to see the partnership come to life.
"The team at 4 Pines are full of energy and have a shared passion for Australian Cricket. 4 Pines' commitment to bring fun to this year's Ashes Series, along with making a difference via their sustainable re-greening program, brings a new dimension to the partnership.
"We love their story and are so impressed by what they have achieved in such a short period, particularly their work in sustainability. We look forward to welcoming 4 Pines to the cricket family as we celebrate the upcoming summer together."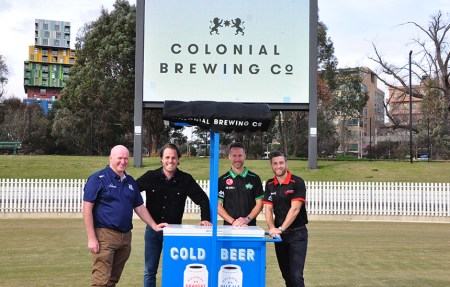 The partnership with Cricket Victoria will see Colonial Brewing secure pourage rights at the CitiPower Centre at Junction Oval and cater for all of Cricket Victoria's official events.
Colonial's managing director Lawrence Dowd said: "Cricket represents everything we love about Australian sport and as an independent Australian-owned business, we're excited to partner with Cricket Victoria and support cricket fans and communities at every level of the game.
"The partnership with Cricket Victoria allows us to provide support and create a positive difference to local communities across Victoria through grassroots cricket clubs.
"We're delighted to see a shift toward independent and Australian-owned craft breweries moving into the arena of major sports sponsorships."
Cricket Victoria interim CEO Nick Cummins welcomed the new Colonial partnership at an exciting time for both organisations.
"We're really pleased to have Colonial Brewing Co. partner with us here at Cricket Victoria and the Melbourne Stars and Melbourne Renegades. It's a tremendous result and the added benefits for our Premier Cricket and community clubs across the state will help build a strong relationship with this innovative brewery that has really established its presence in Melbourne," Cummins said.