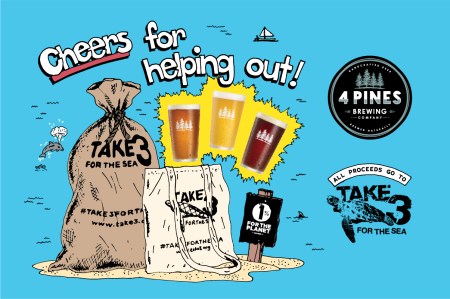 4 Pines are giving away beer from today – but there's a catch, literally.
The brewery are now the first official stockist of the $32 Take 3 Beach Clean-Up Kits via their NSW and Victoria venues which contain the tools for people to catch the waste from their local beaches. In every kit 4 Pines are putting three free pint vouchers worth $36.
In addition, 4 Pines has provided $25,000 to help Take 3 reach their goal of removing 10 million pieces of rubbish from oceans and waterways this year. They also donate one per cent of revenue associated from three of its beers (Pale Ale, Pacific Ale and Extra Refreshing Ale) to Take 3 and two other not-for-profit organisations.
"For us, it's about our quest to leave the world better than we inherited it. Encouraging people to take small actions like doing a clean-up with mates is a no brainer," 4 Pines' chief brewer Chris Willcock said. "As a sustainable and community-minded brewery, being Take 3's first official beach clean-up kit stockist is a further step in the right direction to tackle plastic pollution.
"Our venues have been plastic straw free since 2016, and we keep implementing ways to reduce waste across our breweries and supply chain with the aim of becoming totally plastic and waste free."
Take 3 CEO Sarah Beard added: "4 Pines is committed to doing better for our planet and wanted to find a way to not only join our global movement but ensure the partnership had both an action and an impact, two things we are passionate about at Take 3. The money from this partnership will have a direct impact on our ongoing efforts to keep our oceans and waterways clear of plastic."
This is an edited version of a media release distributed by 4 Pines.