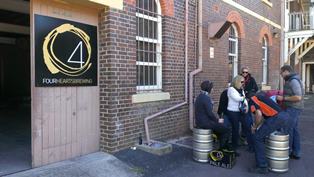 Three and a half years since the first keg of 4 Hearts Pale Ale was sold, 4 Hearts Brewing's dream of building a brewery in Ipswich has come to fruition.
The brewery will feature a 1200L brewhouse with 1200L and 2400L uni-tanks. Beer will be served direct from the tanks for the year round beers and a number of seasonal beers will be brewed on a regular basis.
The brewery and bar will be the foundation tenant for the redevelopment of a huge heritage listed site in Ipswich called 88 Limestone. Featuring an onsite bar and kitchen, the brewery and bar will be called the Pump-Yard, playing homage to the site's history as the first water source for the city in the mid-1800s.
The fit-out of the bar will be industrial, inspired by local and overseas brewpubs and craft beer bars like the ones operated by Brewdog in the UK.
The brewery bar is applying for a full hotel licence so other craft beers can be sold along with wine and cider. There will be about eight to 10 taps, four supplied direct from the brewery tanks. Growlers will be available to allow customers to take the beers home.
"We want to build something that locals will love and that people will see as worth visiting from Brisbane and other surrounding areas. It will be all about good beer and a casual atmosphere. So far the support from the Ipswich and craft beer community has been incredible, I just hope everyone turns up when we open!" said Wade Curtis, owner of 4 Hearts Brewing.
It is expected the brewery and bar will be open by the end of this year.