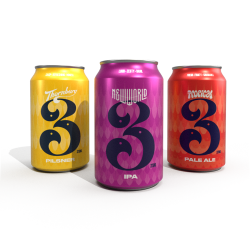 Melbourne's oldest independent brewery 3 Ravens has undergone a brand refresh and has replaced its core range with three new beers.
The new Caw range features a New World Pale Ale called Tropical, which has a 4.2% ABV and a tropical balance of hops; an Unfiltered Australian Pilsner called Thornbury, an easy-drinking lager with a 4.9% ABV and a New World IPA called New World, which has a heavy dose of hops and a 5.8% ABV. The beers will be available throughout the year and are packaged exclusively in cans and kegs, with the decision to move away from glass driven by product quality and environmental sustainability.
"We are championing New World ingredients (such as hops from Australia, New Zealand and America) in pale, balanced and sessionable beers that are full flavoured, refreshing and a little lighter in alcohol," comments 3 Ravens' head brewer Brendan O'Sullivan.
The original core range is being renamed the classic range and will be released seasonally, while the brewery also intends to launch more seasonal beers, such as 3 Ravens Brown Acid – a cola sour beer that is made with a blend of herbs and spices to recreate the taste of sugary cola lollies.
"It's about consolidating all these directions we've been pulling in and all these different ranges we've been creating,"comments Nathan Liascos, 3 Ravens general manager. "We're building a brand bible and guidelines around this rebrand."
As well as launching the new core range, 3 Ravens has undergone a rebrand, with three ravens, representing Odin's two ravens Huginn and Munnin, and Loki's third raven, laid out to create the number three.
"A brand refresh has been on the cards for a while, and it's exciting to now be able to share a brand image that accurately reflects the product, character and values of the brand moving forward," adds  Liascos. "We've done design work that was really well received by consumers last year. We used to be a bit more style forward than brand forward and we wanted to bring the brand to the foreground with the new brand logo and create a strong identity around that.
"The 3 Ravens represent the three ingredients that go into every beer – the craft, the passion and the good times, or the making, the inspiration and the quirk. There's a bit of a mythology story to them as well – two are the science and one is the creative X factor of brewing. It's something that's always been in the background of 3 Ravens and it's never been communicated. It's something that's the core backbone of every key decision that we make.