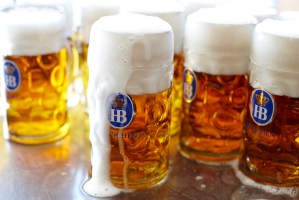 Rockpool Dining Group is set to bring its Munich Brauhaus brand to Brisbane's South Bank Parklands.
Located in the renovated, heritage-listed Allgas Building on Stanley Street Plaza, the venue will feature high ceilings, exposed timber trusses and bare brick walls. It is split over two levels and includes an outdoor beer garden with 250 seats, and two bars, accommodation 36 taps and 17 draught beers, including beers from Löwenbräu, Hofbräu, Franziskaner, Paulaner, Spaten and Steigl. Also on tap will be a range of craft brews from Urban Craft Brewing Co., a wholly owned subsidiary of Munich Brauhaus' parent company Rockpool Dining Group.
Long communal tables and bench seating will be provided, along with a stage for bands and other performances, while the food menu will feature Bavarian classics, including pork knuckle, schnitzels, German sausages, shared platters and a range of lighter bites.
Urban Craft Brewing Co. is shipping in 250 kegs of Bavarian beer for the launch week, which kicks off at 5pm on Friday 4 May with a colourful street parade, a keg tap and an Oktoberfest-themed party.
"We believe this is the largest single shipment of Bavarian biers into Queensland for a single venue," comments Thomas Pash, Rockpool Dining Group's chief executive officer. "We want to give our guests the ultimate Bavarian experience, which means providing the largest range of biers from some of Bavaria's oldest and more highly regards breweries, including traditional wheat biers, lagers, pilsners and dunkels."