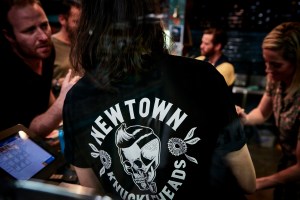 In the increasingly crowded marketplace that is craft beer, brand identity is important. Finding your identity and amplifying it can have a huge effect on your success, writes Charlie Whitting in our Spring Issue.
It can be tempting to believe that by staying in your brewery and concentrating on the production
of great beer, word will get out about you to the wider world simply by osmosis. But in a world where everyone is clamouring to be heard, where people have never had a greater range of beers to choose from when stood at the bar or in the bottle shop, standing out from the crowd is a challenge in and of itself.
You have got to put yourself out there and give your brews the stepping stones required to go from being noticed, to being recognised, to being sought after. In short, you need a brand and an identity. Handily, brewers and breweries are interesting and have stories to tell. And people generally like to hear good
stories. Finding your story is the first step.
"Branding is about forging an identity, ideally one that stands out," says Duncan Harriss, co-owner of Limehouse Creative. "We all have brands, even personal ones, that we develop and market. This is important, so others understand who we are and what we are about. It's just as important for your product and company – more so, even, especially with more crafted drinks."
The story
Stories can be as simple or as fanciful as you like. It can be rooted in history or fantasy, geography or personality, dedication or light heartedness. Some breweries are named for their location, like Southern Highlands Brewing Company in New South Wales, or Burleigh Brewing Company in Queensland. Others, like Two Birds Brewing, have names  that nod to the brewers themselves or, like
Smiling Samoyed Brewing, to something they hold dear. "Our original inspiration came from a
visit to The Burren in Co. Clare while living in Ireland for a year," recalls Corinna Steeb, co-founder of Prancing Pony Brewery.
"We totally understood how JRR Tolkien would have been inspired by the landscape and created The Prancing Pony Inn in Bree. The Burren reminded us of our own property in
the Adelaide Hills. With horses and donkeys on our property and imagining drinking good beer out of wooden mugs, the brand and language for our brand came to life."
"One of Richard's sons is called Henry and was at many of the early meetings to plot the brewery," recalls Andrew Miller, head of marketing at Young Henrys. "Amid jokes of Henry being a silent third partner, Young Henrys was written up as a working title and it just stuck."
Once that story – that core theme – has been established, it then gives you a framework around which to base your brand and marketing. What has inspired you to create this brand or indeed to start making the
beers you're making needs to be translated to other people in a way that will resonate with them. To do that properly, you need to live that brand and maintain the personality that you want people to associate with your beer, which should be easy if the brand already has part of your personality in it. Just as your customers expect a consistent product from your brewery, they should be able to understand who you
are and what you're about from the way you market your brand.
"Wolff Olins described it well, saying: 'You need brand to translate your vision into something people can understand and buy into'," says Dan Parritt, co-founder of brand design consultancy company Studio Molasses. "Your brand isn't just your logo on a business card, it's your total identity. It's what you say, it's where you say it and it's how you deliver your product. Our advice — be bold, what's the worst that can happen? People will respect you for it."
When considering your identity, however, it is important to remember that every time your marketing goes out, it goes out into a world where certain rules apply, certain approaches work well and certain ideas fall flat. For the most part, staying true to your vision is more important than the opinions of others, but it is always worth considering them. Keep your ear to the ground for tactics that are working and be aware of how initiatives could backfire on you. The Alcohol Beverages Advertising Code Scheme should also never be far from your mind.
For the rest of the feature, subscribe to Beer & Brewer here.