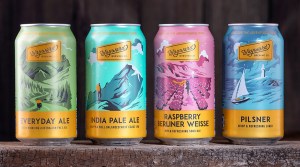 Wayward Brewing Co has unveiled a new core range, packaged in newly branded cans.
The range features two new beers, as well as two existing beers, but with changed names.
The two new beers, which have been developed over the last three months, are Wayward Pilsner and Wayward Everyday Ale. Both have a 4.2% ABV and are aimed at the growing trend towards sessionable beers.
"Consumers are looking for beers where you can drink a few and still be functional," says Peter Philip, co-founder of Wayward Brewing. "The Everyday Ale is a new beer. It's in the XPA style, but I'm not sure people understand what XPA means exactly, so for us, it's a beer for having any time. We wanted that differentiation.
"The Pilsner is a new recipe, a New World pilsner, so it's got some really nice hop character that's not overly fruit bomb. It's a melding of the two."
The other two beers in the core range are Wayward Raspberry Berliner Weisse (formerly known as Sourpuss) and Wayward India Pale Ale (formerly known as Oatis). The recipes have not changed, only the name and the packaging have.
"We see a packaging trend towards simplification," explains Philip. "We felt that while people love quirky names and we loved coming up with quirky names, for someone new to the brand it might confuse them. 'What's a Sourpuss?' It said Raspberry Berliner Weisse on the label, but people make instantaneous decisions. This is meant to simplify the brand."
As well as launching its first canned beers, the brewery has taken the opportunity to create new branding for them as well. Inspired by old travel posters from around the world, the designs are simplified versions. These can designs will not be transferred onto the bottles, but will be seen on pump clips soon.
"We're taking advantage of the massive surface area you have with a can." says Philip. "We commissioned some artwork that really tells the story of Wayward being focused on travel and different places. That's what we're trying to convey."
Not all of Wayward's beers have been canned, however. Camperdown One and Charmer will remain in the same 300ml stubbies as before to cater for customers yet to be convinced by cans. However, the brewery will assess how the cans sell over the next six months and if there is demand, then other beers may move into cans as well.
"Another interesting thing about our product strategy is we're moving to doing monthly seasonals," adds Philip. "They'll still be packaged in those 650ml long necks. Those were quarterly, but we're now tripling the release. Customers should start to see posters of the schedule for our next 12 months of releases. That's where all of the more esoteric beers are coming up. It's an exciting line-up. Some old favourites and some brand new ones."