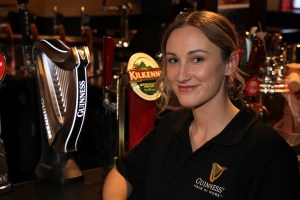 Words: Craig Hawtin-Butcher, Australian Hotelier
Tanika Prowse from The Elephant British Pub in Adelaide, South Australia has been crowned 'Australia's Best Guinness Pint Pourer'.
Prowse is function and events co-ordinator at the Elephant British Pub, just off Rundle St in Adelaide's East End. Prowse wins a return trip for two to Ireland, naturally including a visit to the Guinness storehouse.
"It's a great honour to win this award for South Australia and The Elephant," says Prowse. "It was a very lively atmosphere, but the trick is to stay relaxed and focus on the job at hand. You can't think too much about it. It just has to flow naturally.
"Anyway, I knew I'd already done the hard yards with plenty of practice pours at The Elephant. I can't wait to get to Ireland, the spiritual home of Guinness, and further finesse my technique."
150 contestants nationally battled it out in their state competition for a spot in the National Guinness Perfect Pour Final, which took place in Sydney on 24 September 2018. The event took place on behalf of Lion – who own the rights to produce, distribute and market Guinness in Australia. The five state finalists honed their techniques for a flawless performance at PJ O'Brien's with one finalist missing the cut in each round on the night.
Prowse took on Alex Wilmore of Shenanigans at The Imperial (NSW) in the head-to-head final with Prowse taking out the win. The three other finalists were: James Holman of the Paddy Wagon Hotel (TAS), Steven Blake of PJ O'Brien's (Cairns, QLD) and Sjana Levin of Novotel Vines (WA).
The event was judged by Kirrily Waldhorn (Beer Diva), Eddie Jones (head of NSW Draught Quality Systems), Max Rojas (Guinness Shopper manager) and Serge Costi (Guinness Marketing manager).
Judges measured the perfect pour according to this recommended Guinness pouring technique: