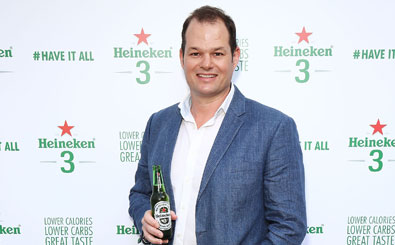 Heineken has launched Heineken 3, a mid-strength, lower calorie, lower carbohydrate beer, two years in development, it's the brand's first new product to launch since Heineken arrived in Australia.
"It's taken just over two  years for us to launch this brand in Australia. We haven't launched anything new with the Heineken brand from a product perspective for more than 20 years when we first entered the market," Heineken Lion Australia managing director, Andrew Campbell, explained at the launch.
"Heineken has a pretty good reputation for being innovative in our marketing campaigns, but this is the first time we're now showing some innovation in product and this is the first time this product is launched globally. We're launching it in Australia first, which is a big honour for us and we're very excited to see how it's going to go."
Despite being brewed in Amsterdam, Heineken 3 was designed with Australia's growing mid-strength market in mind, which is why our shores were chosen for the global launch.
"In Australia, mid-strength is in significant growth, total mid-strength regardless of what brand is just over 20 per cent of the total market already, some of the biggest brands in the market are mid-strength and the international premium segment, which is small at the moment for this as people are trading up to premiumise, is growing at around 60 per cent," said Campbell.
"We believe it will shake up the market with its compelling offering, quality and great taste. Consumers want brands and products that complement their modern, active and spontaneous lifestyles without compromising on taste or quality."
Heineken 3 has a 3.33 per cent ABV and is available now.