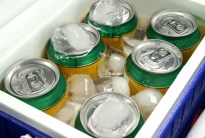 When packing for a camping trip, the drinks are just as important as the gear! Here's our short-list of some beer and ciders to fill up your Esky this summer
Beer
(1) Sixpoint The Crisp (USA)
5.4% ABV, 355ml
Sixpoint The Crisp is an American craft pilsner that refreshes like a pilsner but satisfies the senses like an IPA. This is not your average pilsner! For those searching for a little more from their pilsner the blend of old and new world hops gives wonderful aromas with clean refreshing flavours. A perfect beer for matching with any food situation from delicate seafood dishes to chargrilled BBQ ribs.
(2) Mornington Pale Ale (VIC)
4.7% ABV, 375ml
Mornington Pale is an American-style pale ale, with both citrus and passionfruit aromas, showcasing American hops added late in the brewing process. A light smooth palate, aided by the generous addition of wheat malts, moderate bitterness and carbonation make for a flavoursome and sessional ale.
(3) Mountain Goat Summer Ale (VIC)
4.7% ABV, 375ml
Similar in style to Mountain Goat's Skipping Girl Vinegar beer from a couple of summers ago, the Summer Ale is an easy drinking, pale yellow delight. A little dry and with flavours of passionfruit, this brew is an instant hit. Perfect for BYO-friendly festivals.
(4) The Australian Brewery 'The Pilsner' (NSW)
4.8% ABV, 355ml
With crisp, bitter characters, The Australian Brewery has created a German-inspired Aussie pilsner. Pale Australian malts mixed with perfumed new world hops add up to a very refreshing brew.
(5) Modus Operandi, Zoo Feeder IPA (NSW)
7.2% ABV, 946ml
Modus Operandi's CANimals are 946ml, one-use, recyclable cans. You can choose from the selection of brews on tap at the Modus brewery and they will can it up for you to take home. Try the Zoo Feeder IPA, which recently won the Beer & Brewer Champion IPA at the CBIA Craft Beer Awards.
(6) Coopers Dr Tim's Traditional Ale (SA)
4.5% ABV, 375ml
This naturally brewed ale is made especially for cans to allow for secondary fermentation. Subtle fruity notes and a balanced bittering hops; a fantastic everyday beer.
(7) Six String Hefeweizen (NSW)
5.2% ABV, 375ml
A perfect and refreshing beverage for summer. Aromas of bananas, wheat and cloves. A full bodied, creamy beer that finishes with a tart edge.
(8) Matilda Bay Fat Yak Pale Ale (VIC)
4.7% ABV, 330ml
Clean, fruity and hop-driven. Golden in colour and with herbaceous aromas, the Fat Yak pale ale is all kinds of summer with its passionfruit and melon notes and smooth hoppy finish.
(9) Adnams Ghost Ship Pale Ale (UK)
4.5% ABV, 440ml
Winner of the Indie Beer Can festival in the UK, this is an assertively bitter brew. With a malty backbone and sly hints of lemon and lime on the nose, it's an interesting beer and definitely on the 'need to try' bucket list.
(10) Brewdog Punk IPA (Scotland)
5.6% ABV, 330ml
Fresh and full flavoured, Brewdog Punk IPA is reminiscent of older styled IPA. The golden colour matches the strength of tropical fruit flavouring followed by a dry bitter sharp finish.
(11) Asahi Super Dry 2L Can (Japan)
7.9% ABV, 2L can
Asahi Super Dry has a delicate but rich full-bodied flavour. Designed to bode well with any meal, the 2 litre sized bottle is perfect for sharing around the campfire.
Cider
(12) Three Oaks 'Cheeky' Crushed Apple Cider, SA
5% ABV, 375ml
A classic, crisp to the palate and hand crafted cider. Not overly sweet, this is a perfect cider for those hot summery days ahead!
(13) Coldstream Apple Cider (VIC)
5% ABV, 330ml
Made using a traditional rack and cloth cider press, this is a crisp and refreshing cider. Cool fermented and cold filtered it delivers a clean, flavoursome taste.
(14) The Hills Apple Cider (SA)
5% ABV, 375ml
Made from 100 per cent Adelaide Hills apples, this cider hints at vanilla, lime and sherbet. With a crisp acid backbone, The Hills team has crafted a complex and balanced cider with a strong, dry finish.
(15) Somersby Apple Cider
4.5% ABV, 375ml
Despite being quite a sweet cider, no artificial sweeteners, flavours or colourings are used. Invigorating and refreshing, it is a quality drink from fermented apple juice and natural apple flavouring.
Esky Etiquette
– What you bring you drink. Or at least you drink beers of the same standard as what you bring. There's nothing worse than sharing an Esky and all your delicious craft beers go walkabout leaving only the plain Janes behind.
– To cool cans quickly – stick a bag of ice in the esky to pre-chill it before you fill it. Place cans at the bottom then top with ice. As heat rises the coolest spot will be at the bottom where the cans are. Just be careful not to over chill them!