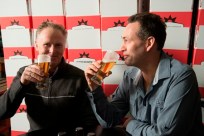 With many craft beers packing a punch with higher and higher ABVs, there is a growing demand for quality lower alcohol craft beers and ciders that can be enjoyed without the additional kick. From low alcohol and low carb, to gluten free and alcohol free, we get the skinny on better for you drinks
In Australia 'lower alcohol' and 'craft beer' aren't two terms that have traditionally married well, in fact they're more likely to have separated for 'irreconcilable differences', however it seems change is in the air. With many craft beers carrying high ABVs it has become increasingly difficult to have a couple of beers at lunch and then go back to work, or drive, or play with the kids as effectively, and safely, as perhaps would be ideal.
The demand for lower alcohol drinks has seen the mid-strength category grow at a time when mainstream beer is in decline, despite much of the category dominated by mainstream brands. Today, roughly one in five beers sold nationally is mid-strength, with the category the third largest beer segment based on litre sales (CUB AZTEC beer report MAT September 2014).
Lighter Beginnings
While this may be a relatively new trend in Australia, traditional beer loving countries in Europe and Asia have been enjoying lower alcohol and alcohol free beers for decades. For instance in Germany alcohol free beers are embraced rather than scoffed at, and are even popular. Holsten Zero is a completely alcohol free beer that is brewed in accordance with the German Purity Law using traditional pilsner brewing methods, is bottom fermented and generously hopped for full flavour.
Often ahead of the times, Coopers recognised the potential for alcohol free beers and began distributing Holsten in Australia more than a year ago. "Holsten has been growing quite fast and has seen 20 per cent growth since introduction," Scott Harris, Coopers' marketing manager brewing products. "The introduction of Holsten into Dan Murphy's has helped this growth and also assisted with the increase in sales of Coopers Ultra Light Birell with both brands now found on the shelves at Dan Murphy's."
While Coopers only began distributing Holsten a year ago, the family run brewery has been crafting its own low alcohol offering, Coopers Ultra Light Birell for more than 30 years. Coopers recognised the need for a good beer to offer next to traditional beers for people who like the taste of beer but either don't want to or can't drink alcohol. This would include people such as; athletes with special dietary requirements, P-platers and others not wanting to risk driving with alcohol in their system, people who can't drink for medical or religious reasons as well as workers operating machinery or at work sites where alcohol is banned.
Enjoying a Session
While Coopers may have blazed the trail 30 years ago, there are now a number of Australian craft breweries that have decided to add a lower alcohol offering to their range. Most recently Matso's
Broome Brewery launched Session Ale a 3.5% ABV pale ale after trialling and tweaking the beer for months. "Session Ale has come about as a result of no mid-strength versions of pale ale being available in the market," said Matso's national sales manager Scott Player. "Over half of craft beer consumed in Australia is a version of Australian or North American pale ale. It feels like an injustice that someone wanting a mid-strength beer (3.5%) because of the occasion or personal choice hasn't the option in the form of Australia's favourite craft beer style."
The Challenges
Of course with alcohol comes flavour, making lower alcohol beers with a big balanced flavour very challenging to make. Jared Birbeck of Birbeck Brewing identifies some of the difficult aspects to crafting his lower alcohol beer The Captain.
"The first is getting hop flavour into the beer without hop astringency. Without a bigger malt base to support higher hopping rates the hops can easily get astringent and unpleasant. Careful use of hops and making sure there is enough malt flavour is critical. This comes down to choice of grains. We used rye for added mouthfeel, Munich for malt character and a blend of specialty malts to really push the malt flavour," said Birbeck. "The other is mouthfeel. Bigger beers have a bigger mouthfeel where lower alcohol beers, thanks to a lower starting gravity, can finish a little thin. Our aim was to give the sense of that bigger beer, so we worked on a bigger finishing gravity as well as plenty of dextrins left. Careful use of specialty malts and a high mash temp got us there."
These challenges are echoed by Malt Shovel's Chuck Hahn as he discusses James Squire The Constable Copper Ale. "Alcohol acts as a flavour enhancer, so we must go over-board with malts and hops in order to compensate for the reduced alcohol level of 3.5% ABV. As a result, the malt body is similar to our Squire Amber Ale and the beer goes beautifully with rich red meat dishes," he said.
It is somewhat ironic lower alcohol beers don't get the respect their bigger bolder brothers enjoy, when in fact they are so challenging to craft well. "We made some very careful choices in the specialty malts and base grain for the beer to ensure we got the right flavour profile there. It was really important to choose malty but not sweet malts to get a rich flavour in the beer without it being cloying," said Birbeck. "Having built the base for the beer we chose hops that were going to have an impact without overdoing the bitterness. Hops with higher oil content and bigger bolder flavours work well late in the boil and as a dry hop. Given the lower alcohol a lighter touch with the hops is required than with bigger beers, but you still get a big impact."
Despite the obvious brewing challenges, Birbeck embarked on crafting a lower alcohol option because of his own need for a tasty low alcohol option and the results have been rewarding. "With so many craft beers going higher and higher in alcohol it was becoming difficult to be able to have more than one beer if I went anywhere. With young children also, I wanted to be able to have a couple of beers and not feel like it was a struggle to do anything," he said. "It's our best selling and most talked about beer. It's the beer that generates most excitement at tastings, the beer people go back for and the beer we enjoy the most. Customers love it. Venue managers are less interested though with many saying they can't sell 'light' beer."
Mid-strength Momentum
While comparatively still just a drop in the big beer ocean, the lower alcohol beer category has made inroads in recent years as consumer demand for responsible options to complement their busy lives has increased. And brewers are taking notice. The new craft beer range from the Australian Beer Company, the Coca-Cola Amatil and Casella joint venture, will roll out in December complete with mid-strength pale ale Yenda Red Mid. "Australian consumers have shown demand for mid and lower alcohol beers in the mainstream market and we believe this is also an opportunity in the developing craft market, balancing the full strength offerings already available," said Andy Mitchell brew master for Australian Beer Company. "The biggest challenge is to brew a beer that tastes like a full strength beer despite the lower alcohol content. I believe we have achieved that through smart design of the recipe and application of strong brewing techniques."
Cider Similarities
We are also seeing more lower alcohol ciders entering the market with Pressman's Mid, also from Australian Beer Company, launched in September. Seeing a gap in the cider market with few lower alcohol cider options available, the 3.5% ABV cider was crafted and is creating a promising response. "We have already won an award in the Australian Cider Awards as Best in Class for the Experimental Cider category, and through tasting sessions we have exposed consumers to the brand and have received glowing feedback," said Derek O'Donnell for Pressman's Cider. "Darren used his expertise in cider-making, understanding of Goulburn Valley apples, and the fantastic equipment Australian Beer Company has access to, in developing a mid-strength cider which is attractive to the nose and to the palate, with a refreshing taste profile."
Also launching a lower alcohol cider recently is New Zealand's Monteith's, which released a 2.8% ABV variant Monteith's Lightly Crushed Cider. "With gatherings starting to take place earlier in the day as the weather warms, people are looking for more refreshing beverages," said David Sax, chief cidermaker at Redwood Cider Co. "Cider is rapidly growing in popularity and as we head into summer, we saw a trend for moderation when choosing what to drink and we've created Monteith's Lightly Crushed Cider as a result."
Gluten-free
With allergy awareness at an all-time high through improvements in diagnosis and public knowledge it seems almost everyone has either a dairy, nut, gluten, soy or egg intolerance. However it's not the drinking death sentence it once was with some impressive beers available that also happen to be gluten free.
After being diagnosed with coeliac disease in 1998, John O'Brien was told beer was off the menu. So he started brewing gluten-free beer in the backyard and realised it was an unfulfilled market so put a business plan together, joined forces with Andrew Lavery who coincidently was on a similar path after also being diagnosed with coeliac disease in 2002 and, as they say, the rest is history. O'Brien Beer now includes eight gluten free beers; four regulars Premium Lager, Pale Ale, Brown Ale and Light Lager and four seasonals such as Belgian Ale, Black Lager, India Pale Ale and Pilsener.
"We've designed the range to cover the spectrum of beer drinking tastes from mainstream and low alcohol to a range of specialty beer style options for those looking for some variety," said Lavery.
"To be gluten free we have to avoid the traditional beer grains barley and wheat as well as rye, oats and other related grains – triticale, spelt, etc. The main grains we can use are sorghum and millet, as well as many others like rice, maize, quinoa and amaranth."
In celebration of the 10th anniversary of O'Brien's first beer released to the market a one-off special edition will be released in August 2015.
Similarly it was a diagnosis of coeliac disease that inspired WA's Billabong Brewing to start crafting gluten-free beers. "It took us more than 70 trials over several years with various ingredients before we arrived at a beer that we could drink," said Proctor. "Since then these beers have progressed to be accepted as very great beers even though they are gluten free." The range includes Australia's Pale Ale, Billabong Ginger Beer and Billabong Blonde a low carb gluten free lager.
Whether you're drinking gluten free, low carb, low alcohol or no alcohol just remember to keep track of your drinks this festive season and if you can't remember what drink you're up to…that's probably a good sign to leave the car.
Australian Classifications
Low, mid and full-strength – so just what is a standard drink? In Australia, a standard drink contains 10 grams of pure alcohol (12.5ml of pure alcohol). Different types of alcoholic drinks contain different amounts of pure alcohol. These are all equal to approximately one standard drink:
– Low-strength beer (2.7%) 425ml can or bottle = 0.9 standard drinks
– Mid-strength beer (3.5%) 375ml can or bottle = 1 standard drink
– Full-strength beer (4.9%) 285ml (pot/middie) = 1.1 standard drinks
– White or red wine (12%) 100ml glass = 1 standard drink
– Champagne (12%) 150ml average restaurant serving = 1.4 standard drinks
– Spirits high strength (40%) 30ml = 1 standard drink
– Full-strength ready-to-drink (RTD) (5%) 330ml = 1.2 standard drinks