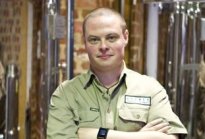 There's a new wave of Australian breweries offering the public access to come in and lay down a brew. It's only in its embryonic stage, but this is something that could catch on and give the public more understanding and involvement in the process, writes Chris Thomas.
Japan's best known craft brewery Hitachino's Nest has a range of US and Belgian inspired beers. Highlights from their range include a White Ale, Red Rice Ale and a delicious Espresso Stout. About half of their beer is exported and it has been available in Australia and New Zealand for a few years now.
While this is all well and good, in fact their beers are great, the reason we are looking briefly at Hitachino's Nest Kiuchi Brewery in Japan is because homebrewing in Japan is illegal. While people do homebrew there, it is only legal to brew beer that is less than 1% alcohol.
The crafty crew from Hitachino's Nest have catered for this aberration by installing a brew on premise facility at their brewery. Genius, I hear you think! Well it seems that same stroke of genius has also hit a few breweries in Australia.
Already there are a number of U-Brew-It type premises in capital cities and larger regional centres. These are usually set up in a large shed in an industrial zone and offer a great social occasion and team building opportunity. You can make some pretty good beers as well.
But they don't quite take you inside the workings of a commercial brewery. This is where the operations at Billabong Brewing (WA), The Public Brewery (VIC) and Bacchus Brewing (QLD) differ.
While the concept is fresh and gaining traction breweries opening up their doors to the public to come in and brew is not a new thing in Australia. In fact, Billabong Brewing started the trend back in 1993, setting up an extract brewery for the public to use. And in the process they paved the way for the U-Brew-It franchise.
"Billabong was the first of this type of brewery in Australia," says Alan Proctor, managing director of Billabong Brewing.
Billabong boast more than 140 recipes and the brewing can be completed in less than 90 minutes.
At the other end of the timeline is The Public Brewery in Melbourne, which only opened this year.
"We wanted to create a better brewing experience for the public, inside a commercial brewing environment with access to all the same kind of equipment," says Simone Crapper, office manager for The Public Brewery.
The Public Brewery is dedicated to craft beer, both in their brewery and with their brew on premise arm.
"We will be focused on brewing craft styles of beer rather than trying to recreate mainstream lagers," says Crapper.
Beyond the reluctance to perfect a clone for Victoria Bitter or Toohey's New, another factor that differentiates The Public Brewery is that they don't buy mass produced liquid extract.
"We are effectively making our own extract for the customer by creating base worts on our commercial brewhouse – it is all grain brewing without the large time commitment as the public only need to come in and steep some additional grain and complete the boil and cooling process."
Recipes, ingredients and tuition are provided, however people can speak to the brewers about specialty brews.
Perhaps the most realistic and hands on brewing experience is that offered by Bacchus Brewing in Queensland as you are able to come in and put on an all-grain brew.
"We saved Bacchus Brewing from closure under the previous owners and at that stage it was 100 per cent brew on premise," explains Ross Kenrick, owner of Bacchus Brewing.
"We are now probably closer to 90 per cent commercial bar supply but the brew on premise is still important to us. There are plenty of other brew on premises in Australia, but I'm not aware of any that are all-grain."
This is probably no great surprise given the significant time commitment required to put on an all-grain brew and for this to be supervised throughout. Given the time commitment required, Kenrick says that he deals mostly with budding professional homebrewers keen to get experience in a commercial brewery. There are also a few bars wanting to get a better understanding of the process of designing and brewing a beer.
While Billabong Brewing, The Public Brewery and Bacchus Brewing all offer unique experiences for the budding brewer, only time will tell if this experience catches on with other breweries.
Brew On Premise Pricing
Prices vary according to style, ingredients and alcohol content of the beer produced but about $250-$260 for 50 litres of beer is a good starting point. When bottled that 50 litres comes to about six cases of 330ml bottles. This includes ingredients, specialist tuition, fermentation on site in a temperature controlled environment and at some venues bottles and six pack holders.