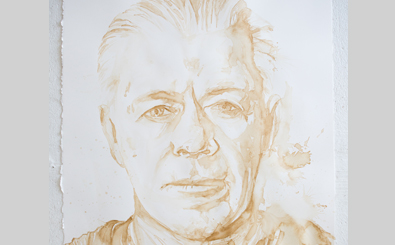 Central Coast artist Grant Molony has created a portrait of surfing legend Wayne 'Rabbit' Bartholomew for inclusion in the Archibald Prize, painted entirely in beer.
Exclusively using beers from Gold Coast brewery Burleigh Brewing, Molony spent between 25-30 hours creating the artwork.
"I had the full colour palette from Burleigh Brewing dark to light; Black Giraffe, Dream Date, My Wife's Bitter, 28 Pale Ale and Duke Premium Lager. Basically using the different shades to layer the image creating the depth and detail I was after," Molony explained.
"The 28 Pale Ale was the base tone of the work with the dark Black Giraffe the finer detail and Duke Lager the lightest tones."
Molony didn't alter the beers at all instead using them straight from the bottle, with the artist finding some interesting challenges and benefits to painting with beer.
"The challenge was the layering process to get the darker shades of the work. I would say it's somewhere between 20-50 layers in the darkest areas. Benefits are that beer's cheap compared to paint and it tastes a hell of a lot better!" Molony said.
As for whether he got the creative juices flowing from enjoying the beers while painting, he quipped "Sure did can't let the paint brush have it all."