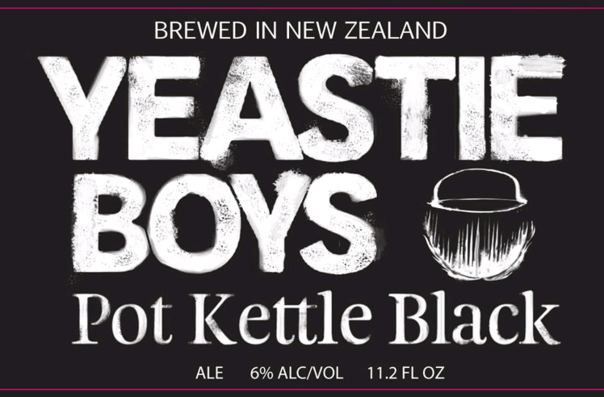 Topping off an action-packed few months for the New Zealand-based Yeastie Boys, their flagship brew – Pot Kettle Black – has taken out not only a Gold Medal and the Champion Porter Trophy at the Asia Beer Awards in Singapore, but also knocked out 350 other beers to take home Champion Beer.
Pot Kettle Black, is the team's fastest selling beer and they are proud to beaten brewers from as far field as Belgium, Germany and Belarus to the punch. "The results are certainly a who's who of breweries around the world, from the very biggest through to some of the smallest and most exciting ones" says Yeastie Boys' Creative Director Stu McKinlay. "We may well have been the smallest brewery in the competition, by volume produced, and were thrilled to pick up a gold medal. To take out the champion beer of the show – when you're up against breweries that are essentially your brewing heroes – is simply staggering. It's still quite hard to believe."
Their winning capped off an interesting festival that also saw a homebrewer take home a Gold Medal in the Pilsner category.
The gong is likely the biggest international award picked up by a Kiwi brewery in the last few years and follows hot on the heels of the lads taking out the People's Choice Award at the recent GABS festival in Melbourne.
"These sorts of things always have the potential to open some pretty interesting doors for a small company with no sales team or marketing budget" said McKinlay. "Winning a couple of huge awards like this with such vastly different beers, and in close succession, proves yet again that we're anything but a one trick pony. It gives interested buyers the best possible indication that our beers are both pleasing to the general public and deemed technically perfect by the experts."
According to Sam Possenniskie, Yeastie Boys' Directive Creator, the win could not have been timed more perfectly. "We've been around since 2008 and have an excellent track record in regards to winning awards but, having grown by more than 300% in the last year, we're only just making that giant leap from hobby business to what we'd consider a real business," he says. "These sorts of things are the perfect indication that we're maintaining that ideal balance between the growth of our business and the quality of our product."
It will be a big leap for the Yeastie Boys duo, who currently both hold unrelated day jobs.
He went on to praise the team at Invercargill Brewery, where Yeastie Boys' production takes place, saying that although they were pushing them in terms of creativity and volume, the team just keeps coming back with quality beer. "Steve Nally and his team at Invercargill are doing an amazing job for us. It's becoming a partnership not unlikeHadleeand Chatfield in the 1980s," he says. "We may be seen to be taking all the metaphorical wickets at one end but we couldn't do it without the consistency of the team at Invercargill."
Pot Kettle Black is available through Yeastie Boys' distributors BeerNZ Ltd (New Zealand), Innspire Pty Ltd (Australia).