With the very good news Blobfish Beer Festival is returning in its full glory this year we've got a double pass to give away to the July 23 event that salutes all things wild, sour and funky.
Hop Nation Brewing's 2022 event is once again being held across two separate sessions (11.30am – 4pm and 5pm – 9.30pm) at North Melbourne's Meat Market and will offer a diverse range of sours, saisons, barrel aged brews, fruity concoctions and rare small-batch runs from 19 breweries, including from the hosts' Site Fermentation Project and Garage Project, Wildflower, Van Dieman and Dollar Bill.
For a chance to win a double pass to a session of your choice, simply email us at info@beerandbrewer.com with "Blobfish" as the subject line with your full name and address. We'll draw the winner on Friday 24 June at 9.00am AEST.
After the inaugural Blobfish event in 2019 proved so successful, Hop Nation had planned, until the pandemic hit, to build on those solid foundations in the intervening years. Now, to be finally kicking the festival back into gear for some in person revelry, the Footscray brewers are super excited.
"It's good to be back," co-founder Duncan Gibson said. "The first Blobfish in 2019 was bloody epic – we sold out both sessions entirely, and we've been frothing to get back to the iconic Meat Market and see you all in person again.
"There's a lot of pent-up demand among fellow blobfishes out there to get back to all things dank, unique and left-of-centre in the beer world."
Tickets to the 18+ only festival are on sale now through Moshtix and include tastings from each brewery, a Blobfish branded Rastal festival glass and a festival tasting guide.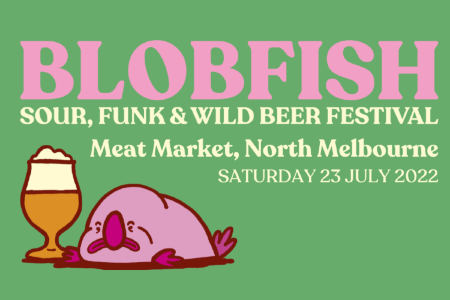 The full list of participating breweries
AWOL, Burleigh Heads QLD
3 Ravens, Thornbury VIC
The Barrel Farm by Blackman's Brewery, Torquay VIC
Beer Farm, Metricup WA
Black Arts Brewers and Blenders, Williamstown North VIC
Boatrocker Brewing & Distilling Co., Braeside VIC
Bridge Road Brewers, Beechwood VIC
Deeds Brewing, Glen Iris VIC
Dollar Bill Brewing, Ballarat VIC
Garage Project, Wellington NZ
La Sirène Brewing, Alphington VIC
Lora Brewing, Marrickville NSW
Molly Rose Brewing, Collingwood VIC
Sailors Grave Brewing, Orbost VIC
Site Fermentation Project, Footscray VIC
Slow Lane Brewing, Botany NSW
Sobremesa Fermentary & Blendery, VIC
Van Dieman Brewing, Evandale TAS
Wildflower Blending & Brewing, Marrickville NSW