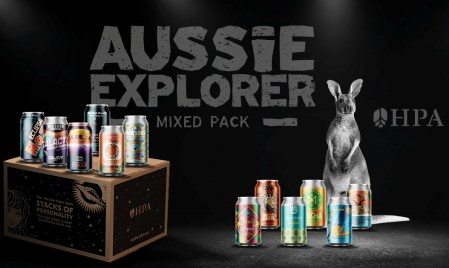 To celebrate the brand refresh of all their proprietary varieties, Hop Products Australia (HPA) has teamed up with Beer Cartel and a host of local breweries on the Aussie Explorer Mixed Pack and we've got three of them to give away.
Featuring 12 different beers from the likes of Hawkers, Moffat Beach, Deeds and Philter that all champion HPA hops such as Galaxy, Eclipse and Vic Secret, the pack is available to buy here.
To be in with a chance to win a pack through us, simply email info@beerandbrewer.com with Explorer Pack as the subject line and include your full name, mobile number and Australian mailing address. We'll draw the winners at random at 5pm AEDT today (November 10).
On November 18 from 4pm HPA will be conducting a live-streamed guided tasting of the beers from the pack with the brewers involved plus you can complete their feedback survey by uploading a photo of your brewing team tasting and you'll go in the draw to win a long table lunch for up to 12 people among the hop bines at HPA's Bushy Park Estates in Tasmania on Wednesday 8 February 2023.
The beers
MOFFAT BEACH SHADOW OF THE MOON, PALE ALE | 375ML | 5.8%
Huge bursts of sweet mandarin, zesty citrus peel, and fresh pine needles.
Featuring Eclipse® hops
PHILTER ECLIPSE HAZE, HAZY IPA | 375ML | 6.3%
Seriously sweet, zesty and refreshing citrus appeal.
Featuring Eclipse® hops
HAWKERS DOWNSIDE UP, HAZY DIPA | 375ML | 8.0%
A journey of floral, spice, citrus and peach.
Featuring Ella™ hops
MOUNTAIN GOAT DAS IST ELLA, HEFEWEIZEN | 375ML | 5.4%
A soft, sweet and creamy fruit salad.
Featuring Ella™ hops
MISMATCH ENIGMA IPL, IPL | 375ML | 5.5%
Clean and crisp white grape, raspberry, redcurrant and rockmelon.
Featuring Enigma® hops
URBANAUT BERMUDA TRIANGLE, BRUT IIPA | 330ML | 7.9%
A splash of summer with notes of pinot gris and fresh raspberries.
Featuring Enigma® hops
BIG SHED GALACTIC MELTDOWN, AMERICAN IPA | 375ML | 6.1%
The full spectrum of passionfruit, peach and citrus.
Featuring Galaxy® hops
STONE & WOOD EDGE OF THE GALAXY, STRONG HAZY PALE ALE | 375ML | 6.0%
A tropical stone fruit aroma with a full body finish.
Featuring Galaxy® hops
NEWSTEAD HIDDEN GEM, STRONG PALE ALE | 375ML | 6.0%
A cabaret of tropical lychee and earthy bitterness.
Featuring Topaz™ hops
SEVEN MILE THE PIZAZZ OF TOPAZ, AMERICAN WHEAT | 375ML | 4.8%
A dazzling chorus of lychee, star fruit and white grape.
Featuring Topaz™ hops
DEEDS BREWING VIC'S BEST, WCIPA | 375ML | 6.8%
A smash with ferociously tropical fruit bowl flavours.
Featuring Vic Secret™ hops
SHAMBLES BIG ROOSTER, NEW WORLD LAGER | 375ML | 5.0%
Light malt, low bitterness, big pineapple, big pine.
Featuring Vic Secret™ hops