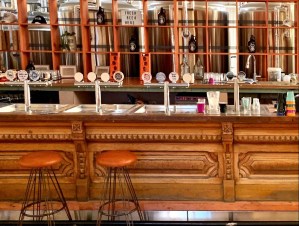 Willie the Boatman has moved into a newer, bigger brewery not far from its original Marrickville site.
Founders Pat McInerney and Nick Newey have sold on their original "Frankenstein" brewery to a brewer in Newcastle, and have increased capacity significantly.
Whereas before, the brewery could produce 3,000 litres a week and hold 6,000 litres, it is now capable of holding 15,000 litres. Once the brewery is fully up and running, Willie the Boatman will have increased its output from 60 kegs per week to 220.
""And our tasting room has gone from a backyard brewing set to a modern brewery tasting room, which people are expecting when they come into that craft market," adds McInerney. "Rather than looking like a local men's shed, it actually looks like a crafted space with a beautiful modern brewery."
It took Willie the Boatman around a year to get this new brewery off the ground, from raising capital to designing the space and building the brewery itself.
"We've got brand new brewing equipment," says McInerney. "Before, we were able to cobble together some old dairy equipment that started its life in 1980 at the Brigade Arm in Bendigo. Now we've bought a Chinese kit. In one day, we can brew what we'd brew in four days down at the old place. It's a highly efficient bit of equipment. The boys have got it cooking well."
While the brewery still has its original bottling line (which can fill around 500-600 longnecks a week), Willie the Boatman has also started canning with East Coast Canning, which has taken considerable pressure off the packaging line.
The brewery has yet to officially open – McInerney is still waiting on extra furniture – but they moved into the space in May. While there are a few function rooms still needing to be furnished, the rest of the hospitality offer is ready, and is a big change from what was on offer before, which has resulted in a considerable change in customer visits.
"We've gone from milk crates to fancy Ikea furniture," laughs McInerney. "It's a lot more comfortable and there's a lot more space. In the old days, people would come in, have a paddle and then go. In our new place the stay has gone from 45 minutes to two and a half hours.
"The mix of people is completely  different. Before it was 98% men at our last place because it was very blokey and pokey. This new place is open; it looks inviting. I think it looks beautiful. We've got this amazing bar that we've imported from Pennsylvania, American oak, hand carved. I go into work every day and stare at it."
The new brewery also has new branding, as Willie the Boatman has undergone a refresh.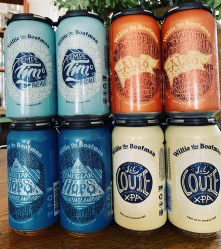 "New brewery, new look," says McInerney. "I thought that if we're going to go on this journey to a beautiful new brewery then we should signify that with updating our look.
"One of our mates owns a branding agency and he was keen to get his hands on it. We let him have a go and we were really impressed. It's modernised our brand. It's working well. I love it."
While McInerney describes this new brewery as "the brewery that we were hoping we'd grow into", there are plans for further growth, with sites in the south west suburbs being investigated for a production brewery that it is hoped will open next year.
"It's rent, but also that's where Sydney lives," says McInerney. "All the inner west breweries would say that a lot of their clientele comes from the south west. Particularly the Saturday clientele. They'll come in so we'll open up a tasting room eventually out there. We're looking at a couple of sites out there."