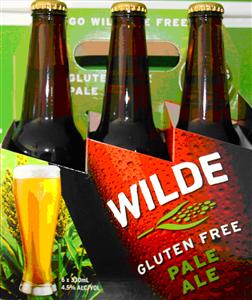 Koala Beer has had a technical breakthrough in the battle to produce a quality Gluten Free beer at a reasonable price for the roughly 1 in 100 Australians and New Zealanders that suffer from Coeliac disease and other gluten intolerances.
But the good news is WILDE Gluten Free Pale Ale will appeal to not only those drinkers with Coeliac disease but also other health conscious beer lovers. In fact, the team behind WILDE are pretty confident that most drinkers will find their Gluten Free Pale Ale to be a rather nice brew.
Mark Mead, who is the manager at Warners at the Bay bottleshop – stockist of over 1000 beers and winners of multiple industry awards – has a vested interest in making sure he has the best beer in store as well as uncovering great gluten free brews.
"WILDE is a cracker of a beer, at the best price I know of," he says. "My dad was just diagnosed with Coeliac disease so I have a special interest in Gluten Free beer."
Coeliac disease or gluten intolerance can develop at any time in life and is a condition that damages the lining of the small intestine. This occurs when gluten, which is found in wheat, barley, rye, and oats, is consumed. This damage affects the ability to absorb nutrients properly and the person becomes malnourished.
While beer is normally made with barley and/or wheat, WILDE was created by Koala Beer using an alternative grain that not only is gluten free but tastes just like normal beer.

Is it just us, or does gluten free craft beer sound like a winner?

For more information check out wildebeer.com or phone (02) 4977 2683.