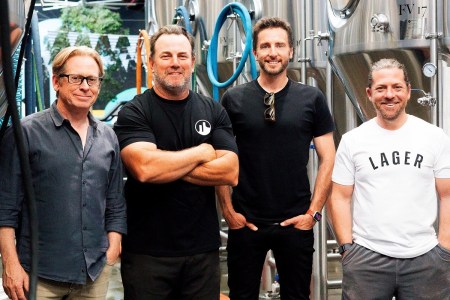 Sydney-based brewery White Bay Beer Co has appointed award-winning independent brand and creative agency Richards Rose to their leadership team as equity partners as they embark on their next phase of growth.
White Bay started in 2020 just as Covid hit and built a formidable beer range, a great brand experience site in White Bay, Balmain and a strong following across NSW with on-premise connection and wider off-premise distribution via Dan Murphy's, Vintage Cellars, BWS and independent bottleshops. In 2022 their Lager was awarded Champion Independent Beer and Champion Lager at the Independent Brewers Association's annual awards.
"I have known and worked with Digby, Adam and the Richards Rose team for over a decade now," White Bay co-founder Adam Trippe-Smith said (pictured above on the far right with, from left: Digby Richards, Tim Condon and Adam Rose).
"They're experts at creating and growing brands and now that we've established the business and operations, it's time to shoot for the stars with our brand."
Richards Rose have agreed to an equity and cash partnership to ensure alignment around ambitions and outcomes. This unique arrangement sees Richards Rose embedded at the leadership table, versus being an external consultant. It also doesn't preclude them from working with other alcohol brands.
"We're big fans of beer and the White Bay team. What a start they have made especially given they launched during Covid. To become part owners of White Bay puts another level of healthy pressure on us at Richards Rose to ensure we give this brand the lift it needs and deserves" said Richards Rose co-founder Digby Richards.
Richards Rose is exploring all aspects of the brand with the leadership team at White Bay –including identity, range, innovation, brand idea, comms and partnerships.
This is an edited version of a media release distributed by White Bay Beer Co.