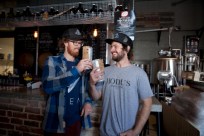 Sydney's Modus Operandi Brewing is championing the benefits of canning beer by releasing what they believe are the biggest cans in Australia. Their CANimals are squealer sized (946mL) cans filled with fresh craft beer from the source. Yep, draft beer in a portable can. The second of its kind in the world and the first in Australia.
"We love having our line-up of our glass squealers and growlers for folks' takeaway needs and continue to have them on offer, but the CANimal is your perfect partner in crime for all your adventure needs. Whether you are surfing, boating, biking, camping, bushwalking, relaxing or just chilling watching the swell at your favourite headland you have the freedom of longer storing beer, eliminating the negative effects of UV light in a portable, unbreakable and crushable vessel," said owner Grant Wearin. With his wife Jaz adding, "A CANimal is a great volume that can be enjoyed in one sitting with a mate, or six, and when it comes to barrel-aged and speciality beer, it is very good value for the capacity".
The CANimal is a one-use, recyclable 946mL can that is filled and seamed at the bar at Modus Operandi Brewery in Mona Vale on Sydney's Northern Beaches. Using industrial revolution era technology it is a tabletop design commonly used for canning homemade food into steel cans. The filler was modified to work with aluminium, and the height adjusted to accommodate the CANimal's height. Made from aluminium, the CANimal is 100 per cent recyclable.