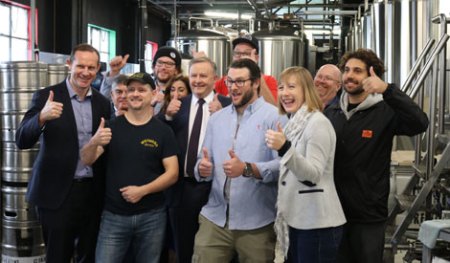 Welcome to our second State Focus Week, covering all things New South Wales.
After our Queensland Week earlier this year, Beer & Brewer has now headed south down the east coast to New South Wales and will be posting a story every day this week from the state's breweries.
New South Wales (NSW) is a substantial state with several beacons of brewing. While Sydney boasts an array of craft breweries, particularly in the Inner West suburbs, there are also growing brewing communities in Newcastle, beyond the Blue Mountains, up the Northern Rivers and down along south eastern coastline. Breweries are opening in NSW all the time, while plenty of others are expanding or have expanded to meet growing demand.
"We're definitely seeing more breweries come on board, with competition and variety increasing," says Andrew Fineran, co-founder of Batch Brewing, which recently opened a second brewhouse at the Petersham Public House. "It's keeping us all on our toes to offer better beer and cut through, that's for sure! But with more breweries and tasting rooms, it's raising awareness of indie beer overall and bringing people around to experience what we and others have to offer and that's a great thing."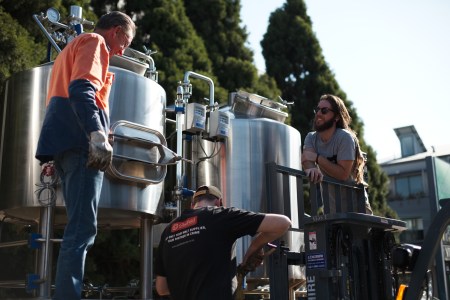 When people think about breweries in Sydney, they tend to focus on the Inner West suburbs of Marrickville and Newtown, but the city has pockets of brewing all over the place, from Five Dock to Glebe to Annangrove. And it looks likely that more breweries will be appearing in the future.
For many Sydney brewers, the cost of rent and the lack of space are considerable challenges, which may see brewers look further afield for expansion opportunities. The outer western suburbs, such as Penrith, Parramatta or down towards Campbelltown and Macarthur, are becoming attractive options, not only for cheaper rents, but also because of the growing demand for craft beer from the residents. Bucket Boys is set to open a venue in Penrith, while Willie the Boatman is looking that direction for a possible production brewery after it recently expanded its brewpub to a larger site.
"That's where Sydney lives," says Pat McInerney, co-founder of Willie the Boatman. "If you look at the people drinking in our brewpub on a Saturday, a third of them are probably from Campbelltown and around there."
The craft beer drinking community in Sydney is growing, both in number and adventurousness. Many brewers believe that interest will continue to increase, bringing more people to craft beer and more craft beer to people.
"We are finding that people are keen on drinking better, higher quality beer which our industry is all about," adds Matthew Denholm, sales manager of Akasha Brewing in Five Dock. "We want to provide the experience in the glass for the consumer and we think that as with the food and coffee movement before us, the good beer movement will continue to bring in followers. We do believe that Sydney as a whole is on the precipices of an awakening as a city. There has never been more talk about Sydney, the lock out laws, and the city in general. With the light rail through the CBD and the metro projects we think that there will be a real shift back to venues and less quiet streets in the future."
Beyond Sydney
Localisation is a growing trend around Australia and NSW is no different. With space on the bar and in the fridge becoming increasingly competitive, many breweries are starting to focus instead on their own premises, bolstering the hospitality side of their business. Outside Sydney and Newcastle, in the regional towns of NSW, the opening of a brewpub like this can be just what the local craft beer enthusiasts need.
"While new breweries are still opening regularly, we've reached saturation point when it comes to national or distribution breweries," opines Mike Clarke, co-founder of Sauce Beer. "And that's probably as it should be. We're seeing more and more brewpubs opening up in regional towns and cities, which is just fantastic. I've found that people who live outside the cities are really receptive to all the new styles and flavours that craft beer can bring. The local brewpub is introducing them to all the wonderful new flavours that craft beer can bring, with local provenance. In my view there's no reason why there couldn't be an independent brewpub in every country town in Australia.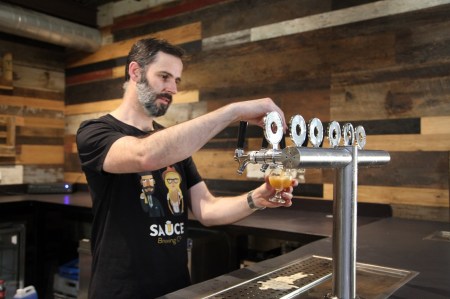 "I think we're going to see more smaller brewpubs popping up, focusing on providing a great experience to their local demographic. And while the typical brewery taproom has traditionally been a simple affair – serving only one brand of beer, no wine/spirits, and with a food truck – we will start to see brewpubs operating as full-service venues and restaurants, with a top-notch food offering, and a variety of beer, wine and spirits on offer. Expect also to see breweries and distilleries collaborating on venues to offer an immersive food and drink experience."
But what are the challenges for breweries operating in regional towns beyond Sydney, whether it's Southern Highlands Brewing in the Southern Highlands, Humpback Brewing down the coast in Tathra, The Welders Dog in Armidale or Badlands Brewing in Orange?
"Not having a huge local population to draw on we also rely on supporters in the bigger metropolitan areas of Sydney, Newcastle and Canberra," says Jon Shiner, founder of Badlands Brewery in Orange. "Often these customers are ordering for rotating taps which makes it hard to forward plan. Luckily, we have shown over many years our craft of consistently producing characterful, interesting but sessionable beers. Sales and logistics are two of our biggest challenges given our location and also finding the right balance of my time."
"With Sydney being the business and international trade hub of the country, I think they had a head start on the craft beer scene," adds Jacob Newman, co-founder of Eden Brewery in the Southern Highlands. "That has a trickle down effect to regional NSW as well. As a regional brewery we are incredibly grateful for all the work the Sydney breweries are doing, creating an interest and demand for independent beer, that we can participate in supplying Sydney as well as tourists coming down to visit our region, here in the Southern Highlands. "
Inner West Brewery Association
A major success story in craft brewing circles, The Inner West Brewery Association (IWBA) was founded two years ago to lobby local and state governments for better regulations and conditions for microbreweries. It has also promoted the Inner West suburbs as a brewing hub. In its time, it has seen significant changes implemented to allow the brewpubs there to thrive.
"The IWBA is a great platform for brewers to get together and discuss issues that may arise at a local council, state or a federal government level," says McInerney.
Given the successes of the IWBA, is it something that could be replicated elsewhere in Australia?
"It's a group of brewers that have formed an association to help raise awareness and deal with issues they face on a local level with council and other regulatory bodies which impact on the way we operate," says Glenn Wignall, co-founder of The Grifter. "It could definitely be implemented in other parts of Australia."
The NSW brewing scene is one of the country's most vibrant, with breweries concentrated in the Inner West, but also spread out in almost every corner of the state. And with more breweries scheduled to open and existing breweries planning expansions and new beer releases, it is a great time to be a craft beer lover in NSW.