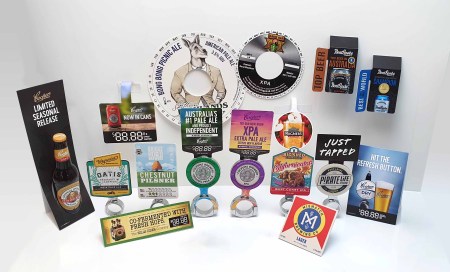 Brewcon19
With BrewCon19 fast approaching in September, now is a great idea to get advice and get your point of sale products ordered.
Tap into our expertise and have your brand look its best with Tap Top decals. Perfect for existing or unreleased brews, we cater for large and small orders. Not only do we do the roundel style, we also do custom shape Tap Talkers and PVC Tap Tops. Make your marketing look its best with posters, vinyl floor graphics, and stickers.
If your brew has a backstory, display it on a Counter Card, printed on water resistant PVC. Looking for a new and interesting way to package your product? We have the knowledge to help you develop your brand from concept through to finished product.
Want to see what we can provide for your brand? Ask us for a sample pack or product catalogue, you might discover something unique to stand out.
If you want to make an impact, we can give you an innovative and industry leading approach that keeps your brand at the forefront. For our Beer & Brewer readers we are giving a 10% discount on orders within this promotion period, just mention this promo in your enquiry and we will apply it on a same day quote. Our friendly sales team is dedicated to ensuring you find the best product that suits your marketing campaign or product launch at the best price. Contact Amy, Dave, Emma or Steve to get a same day quote on 08 8277 1011, sales@pricescreen.com or visit our website www.pricescreen.com.au