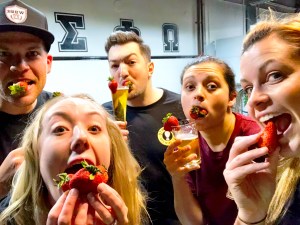 In the wake of the epidemic of needles found in Australian strawberries, breweries are stepping in to help struggling farmers.
The spate of sabotage to Australian strawberries results in people across the country finding needles hidden into the fruit, which which had been bought in supermarkets. This subsequently caused considerable financial and reputational damage to farmers who have seen their incomes slashed as a result.
In response to this, WA breweries such as Brew U in Canning Vale and BeerFarm in Metricup have been buying strawberries from beleaguered farmers and using them to make new beers.
"We're from the hills east of Perth and it's semi rural, with lots of agriculture, local producers and small businesses, so we're all conscious of the plight of farmers," says Jon Stockey, head brewer at Brew U. "So it made sense. Following the success of some cherry and raspberry beers, we had formats that could make use of strawberries.
"One of our customers works closely with the producers. He put us in contact and we arranged to buy a significant amount. Punnets of strawberries are available for cost at the brewery and whatever is left over we freeze pasteurise and put away until they're needed for the beers."
Brew U has created five beers using strawberries in this way – a Strawberry Sour, a Strawberry Wheat Beer, a Strawberry and Sea Salt Gose, a French Saison, and a Strawberry Blonde.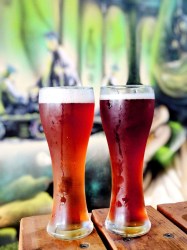 "The response has been really good," says Stockey. "It's been mindblowing watching it all really. It's pleasant to see in the brewing community that so many people were getting involved."
Brew U has sold close to 25kg of punnets and has used around 45 kilos of strawberry puree in its beer, so far, but bigger breweries like BeerFarm have taken things further.
"We bought around one and a half tonnes of strawberries," says George Scott, general manager of the BeerFarm. "For us, helping farmers with unwanted fruit has been going on for a while. The strawberry theme was one we could get behind and the media got behind us. It's what we like to do anyway with our fruited sours.
"Being from a farm, we want to reduce our wastage and make an impact, it's something we really value. We're working with farmers in WA so we can understand what waste they have and what we can do to help.
"In WA there was a really good response from the public. People came out and starting picking them to stop them going to waste. We did some digging and found a farm. They've been hit really hard – they've lost a quarter of million dollars in sales and have had to cease trading because of the damage to their brand.
"Farmers get it tough. If they lose a yield it really hits them hard. We're really behind supporting farmers. We do our own fundraising all the time. We've got to stick together. The whole industry got behind it as well. It was a collective effort from the industry. That's the great thing about the beer industry – it's so connected."
BeerFarm is a bigger brewery, with larger tanks and stricter brewing schedules, which means that only one beer will be produced and it is not yet ready.
"We're thinking of making a Strawberry, Lime and Mint Sour," adds Scott. "There were hundreds of ideas. It should be coming out very soon. We're discussing the name, but we're probably going to use the name of the company [Mal's Black Label] that had to cease trading and draw some exposure to that. The strawberries will be front and centre and we want to drive the farmers that we're working with.
"It's been great for us, but it gives us the chance to leverage it and raise awareness about wastage and how we all need to reduce our impact. Other companies need to be aware of it too."