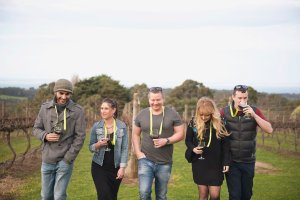 The Peninsula VineHop Festival has been awarded a Regional Events Fund grant by the Victorian government and Visit Victoria.
Founded by Lisa MacGregor in 2017, the festival celebrates the range of beers, wines and ciders created in the Mornington Peninsula. In its first year, the festival attracted more than 3,000 visitors.
"There was a significant risk involved with putting on my own event for the first time, especially with a new family, but I couldn't get this idea out of my head," says MacGregor. "I knew that the Peninsula needed its own version of the Winery Walkabout, but unlike the festival in the north east, I didn't just want to focus on wine. We also have outstanding beers and ciders being produced in this region."
The festival will return for a second year in November, offering shuttle and tour bus services to take attendees around participating wineries and breweries without worrying about drink driving. DJs, food trucks and live music will be featured at each venue throughout the day.
"Travelling between each venue on buses is not only a safe way to experience the unique tastes and offerings available across the Mornington Peninsula – it's quite fun," adds MacGregor.
The dates and full line-up are yet to be announced, but more information can be found at www.vinehopfestival.com.au.