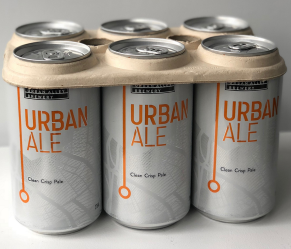 Urban Alley Brewery, due to open in Melbourne's District Docklands in September, is set to launch a biodegradable six pack holder into the Australian market.
Called E6PR, the six pack ring holder is made from spent grain. An alternative to plastic, it is edible to marine life. Urban Alley is now the fifth brewery in the world to implement its use.
"It's something that's been developed between a brewery in Florida called Salt Water and a design company," says Urban Alley owner Ze'ev Meltzer. "They take spent grain and mash it up and use non-toxic binders to mould it into a six-neck holder. I was made aware of it by a friend who tagged me on Facebook. They were really obliging. We've had some issues getting them into the country, but it's so worth it and hopefully other breweries in Australia will pick up on it. It's more expensive, but if there's a critical mass of people doing it then it will push down the price for everyone."
The production facility and 550-capacity brewpub have been constructed from recycled brick and wood throughout, while beer production intends to adhere to strict sustainability benchmarks surrounding waste, energy consumption and gas emissions, collaborating with local Victorian businesses to develop innovative and organic solutions.
Partnering with a neighbouring distillery, for example, has allowed both facilities to mitigate the need for the rapid heating-cooling-heating processes – which require up to 3,000 times more gas than the average Australian home. The exchange of water at the desired temperature from the brewery to the distillery and vice versa is expected to reduce gas emissions to near residential consumption levels.
"In distilling you circulate cold water around the still," adds Meltzer. "So as the water comes out of the still it's hot and has to be cooled down and recirculated. But in brewing, we take cool water and heat it up for the mash. But we thought that if we sent them our cold water they could use it to cool down their distillate and send it back to us hot. It's a good example of good fortune."
The development of an on-site bio-waste plant means that all spent grain can be broken down and repurposed as fertilizer. The process also creates natural gas, which will be used to power the brewery.
Waste water will be sent to the on-site water treatment plant, where solids remaining from the brewing process will be settled out and the PH levels tested and corrected to achieve a neutral reading. Looking ahead, the brewery intends to develop a program which will see its waste water captured, transported and reused in farm irrigation, due to its high content of minerals, salts and proteins.
"Everything we do and we've done in building the brewery, we've looking at every opportunity that we can to make us more environmentally friendly and responsible," says Meltzer. "We've had to be pretty creative and a lot of it has never been done before."