The Bank women brew their collab beer with Batch – Aunty Hops' A Berry Salty Bush
Newtown's favourite crafty Uncle is returning and he's got your new favourite Aunty in tow.
Uncle Hops, the craft beer bar inside the The Bank, makes its long anticipated reopening on Friday just in time for Sydney's long weekend.
To mark the occasion Uncle Hops has teamed up with the Batch Brewing Co from down the road in Marrickville and will tap six of their brews. This will include their collaboration release A Berry Salty Bush – a red grapefruit, cranberry and salt bush gose – which has been brewed under the name Aunty Hops (pictured below).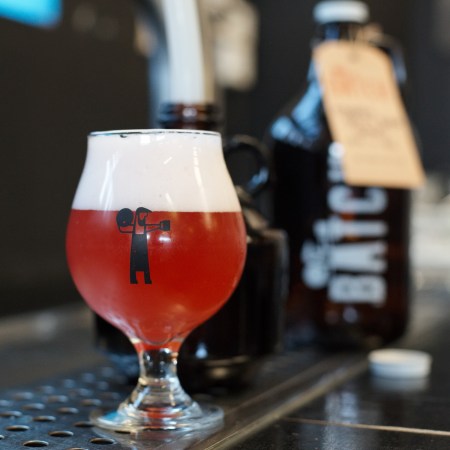 Aunty Hops was first brewed back in March after being conceived and designed by Batch and the women of The Bank.
The other taps will feature Batch's Tasman Tango South Pacific Ale, Helles Lager, Juicy Boys DDH NEIPA, Small Batch Wardell Nut Brown 2.0 and Small Batch Single Hop Simcoe IPA.
Nick Cerone, The Bank's marketing executive, said they had closed Uncle Hops due to COVID capacity restrictions but that it was a special feeling to see it on the verge of reopening.
"We're all stoked. Tom (Pigott) the bar manager and everyone are super happy to see it opening again and the beer about to flow."
Keep an eye on The Bank's website and social pages too, as every two weeks Uncle Hops will be teaming up with other breweries for tap takeovers.
"We'll start those with local breweries like Badlands but as borders reopen we can look at expanding that with the likes of Deeds and Moon Dog. Stay tuned," Nick said.
The Uncle Hops reopening is the start of a busy few months for The Bank as they will welcome back live music to Waywards on October 23 for five consecutive 'Best Served Loud' Friday night gigs in collaboration with Young Henrys. Read all about it here.
Contact Beer & Brewer by clicking here to share your news and views.