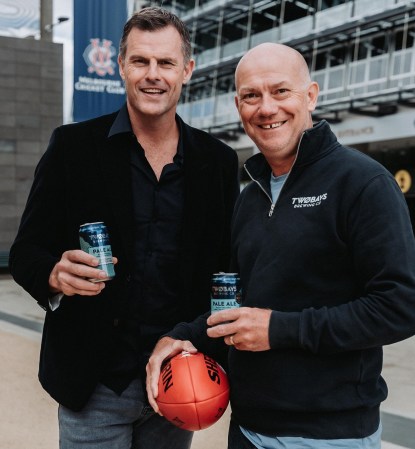 TWØBAYS Brewing founder Richard Jeffares is celebrating the win, and not just because his gluten free pale ale is now available throughout the MCG for game days, concerts and more. But also because an independent beer is too at a time when he and his peers are facing mounting challenges, seemingly from every angle. Now, if only your beloved Geelong Cats can start winning too huh Rich…
Speaking with Beer & Brewer, Richard said cans of TWØBAYS Pale Ale are now stocked in bar fridges throughout the stadium due to public pressure and that the pourage rights holders Carlton & United couldn't meet that demand.
The brewery's addition to the MCG's drinks offer follows a run of independents gaining traction in other capital city sports grounds as operators look to enhance the game day experience.
"I couldn't even have a beer at the footy before, so as a gluten free person it's just delightful to have a beer, any beer," Richard said, who is pictured above with ex-Western Bulldog player and current AFL broadcaster Luke Darcy who likewise suffers from Coeliac Disease.
Richard added: "I go to the footy every week Geelong play in town and I haven't been able to have a beer for five or six years now (he was diagnosed with Coeliac Disease in 2015). So it's great. All I need now is for the Cats to start winning again!"
Richard said independent brewers were likewise looking for a few wins amid a "torrid period" and that being able to fly the Independent Brewers Association's seal of independence somewhere as focal as the MCG was "a much needed good news story" for the industry.
"The Independent Seal has always been really important to me and to TWØBAYS. It says something about the passion and creativity that has gone into making the beer, and the brewery's focus on supporting their community – whether that's the local community, or in our case the gluten free community.
"To have indie beer stocked at such an institution as the MCG is really exciting for craft beer drinkers who want to support a local independently owned, family run brewery."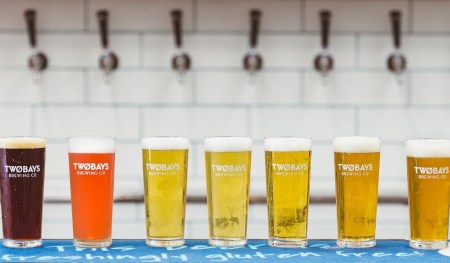 Richard said TWØBAYS, who are currently the premium beer of choice at the Melbourne Convention & Exhibition Centre as well, are also in talks with other hospitality groups who are considering ranging their beers "as they see the need to add gluten free options to their drinks offerings". It's a movement we've already seen with non-alcoholic beer being more prevalently adopted on-premise.
"My nirvana was always that (a gluten free beer option) gets mandated and that these groups look at it like 'we need one, just like we need a cider'.
"Once one big group takes this move then I believe it starts a trend. For me it's a no-brainer to take up one or two spots in your fridge that appeals to a whole new market."
In a statement, Luke Darcy said: "(The Pale Ale) stands up next to any beer behind the bar. To be able to knock off after a game and actually have a beer is great. It's not the occasion for a glass of wine – you want a cold beer.
"A big portion (of) people at the MCG (for an AFL game) would be gluten free. To sit there with a gluten free beer changes the whole experience. It's a bit of a rite of passage. We're really excited to be able do that now."